When you think of Albania, what do you picture?

Do you think of forlorn communist buildings, crumbling and covered in graffiti? Perhaps you think of drug lords and organised crime, of mobsters lying in wait to harvest your organs or sell you into a life of sexual slavery.

Perhaps you think of…nothing. You're unsure where Albania even is, and you definitely don't know anything about the place.

Well, what if I told you that Albania is growing in popularity, not only for its white sand beaches and breathtaking mountain ranges, but also for its wine?!

Not many people would even consider Albania when thinking of quality wine and enotourism (wine tourism), but that is beginning to change. Albanian wine is actually one of Albania's best kept secrets, and in this article, I hope to show you why.



Kantina Alpeta – Albanian Wine, Slow Food, and Love


Until 1991, Albania was about as isolated from the world as North Korea is today. Visiting Albania as a tourist was almost impossible, and although Albania's borders have been open for almost 30 years now, tourism in Albania is still at its infancy.

Not many people have heard of Berat, and even less have heard of Roshnik, a tiny village located about 30 minutes from Berat's centre.

If people do visit Albania, they tend to head straight to the capital of Tirana, spend a couple of days there, and move on to one of the neighbouring countries, convinced that they have 'done' Albania.

However, for many Albanians, the village of Roshnik is growing in popularity, planting itself firmly on their radar after appearing on television multiple times and even being praised by the Albanian Prime Minister himself.

The reason for this?

Albanian wine.



Roshnik and Alpeta Winery


I first heard about Roshnik when I was backpacking through the Balkans in 2018.

An English couple I'd met in Tirana had invited me to tag along with them to Berat for a wine tasting at a family business called Alpeta Winery. Of course I said yes, and before we knew it, we'd amassed a fairly sizeable group of backpackers who were all dying to see what Albanian wine had to offer.

We based ourselves in Berat for a few days, and the lovely volunteers at our hostel, Berat Backpackers were more than happy to arrange an Albanian wine tour in Roshnik for us, complete with a white-knuckle taxi ride through the Albanian mountains to get us to our destination.



Roshnik, population 550, is a haven of peace and quiet. With only two village shops, a Mosque, a winery and a restaurant (owned by the same family who own the winery), there is not a whole lot going on.

Cockerels, crickets and birdsong are only punctuated by the occasional hooves of a donkey ambling by, and the rolling hills seem to go on for miles as far as the eye can see, Tomorri Mountain looming over everything like a watchful father.

Alpeta Winery has been a family business since 1991 when, after the fall of communism, the land that once belonged to the brutal dictator Enver Hoxha was given back to the Albanian people. The Fiska family were given 3.4 hectares of land (they now own 7), some of which included vineyards, and so Alpeta Winery was born!

It took a little while for the venture to take off as Albanian wine used to be very unpopular (it still is outside of Albania!), but when the Fiska family began experimenting with the Pules grape that is native to Albania, they began to see some success, and now run a thriving agrotourism business with a winery, two restaurants and a guesthouse.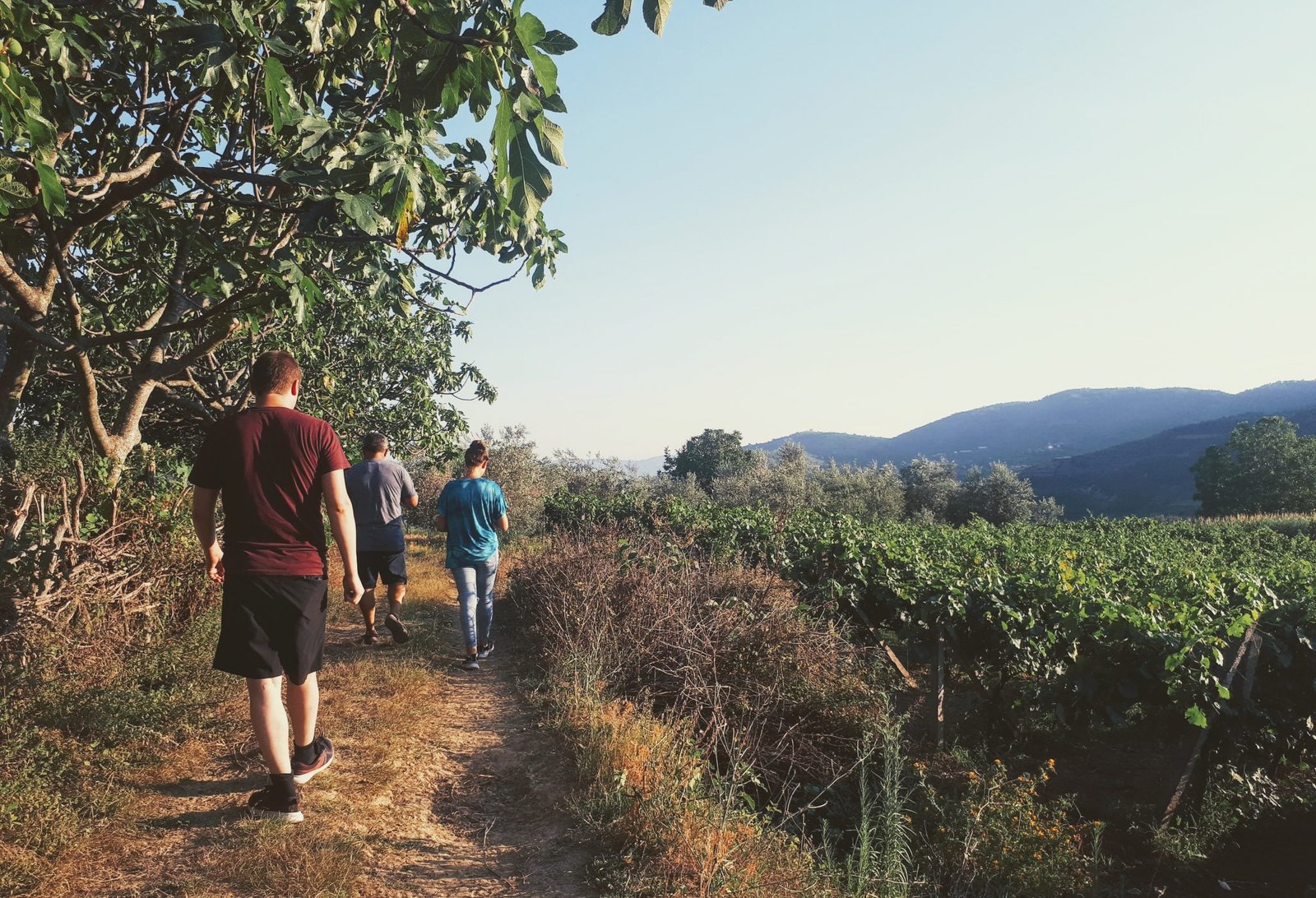 When my merry band of travellers and I arrived in Roshnik, our wonderful host Ardit took us on a 20 minute gentle uphill walk to enjoy the panoramic views of his homeland (and show off his family's land!) before leading us back down and to Alpeta Winery itself, where we were given a tour of the vineyards and allowed to taste the various grapes as Ardit explained which was which, and told us about some of the other foods that they grow onsite (the most famous figs in Albania, apparently!).

As Ardit and his Uncle Petrit led us through the vineyards and into the distillery where the wine and raki are made, they explained the whole production process to us. We were surprised to learn that it only takes about a week to produce raki and that Alpeta Winery can boil about 6000 litres of raki onsite – dangerous!



The Raki


Raki is a kind of fruit brandy popular all over the Balkans, and up in Roshnik, it is almost a religion, especially if you ask Uncle Petrit!

The Fiska family make seven different kinds of raki – the Grape Raki is the regular old raki, the type that you will find all over Albania and the entire Balkan region. Next is the Muskat Raki, made from the Muskat grape which gives it a very strong, distinctive taste, and the Oak Raki (Raki Rrushi), which is aged in an oak barrel for several months, turning brown to match the colour of the barrel.

Also at Alpeta Winery, you can try raki made from Cornelian Cherry, Plumb, Wild Almond and Blackberry. There is also a special 'Winter Raki' made in – say it with me – wintertime! Winter Raki is made from a 'winter grape' that is allowed to ferment for 2 weeks, and if you are lucky enough to visit Alpeta Winery in the cooler months then you just may get to try it.

My personal favourites though? Blackberry and Almond!



The Wine


In addition to raki, the Fiska family also make a few different types of Albanian wine – the white Pules variety, a Merlot (2004, 2005), a Merlot-Cabernet (75% Merlot, 25% Cabernet), and a Merlot 2015 Reserve.

After we had finished our tour of the vineyards and the distillery, it was onto the most important part of the day – the tasting!

Now, suspend any beliefs you may hold about wine tasting being stuffy and pompous – when you go to an Albanian wine tasting, things are very different!

Any images that you may have of people swirling wine around their glasses, inhaling deeply and talking in riddles about the flavours that they are picking up should be tossed aside – Albanian wine is there to be drunk, and, if you're with the Fiska family, you should be having a bloody good time while you do it!

The Fiska family hold the tastings either on the terrace of their restaurant, or in the lush green gardens, where you can sit under the shade of a large tree and bask in the pink light of Tomorri mountain as the sun sets (the mountain actually turns pink!).

As you relax under the shade of the trees, you may see a weathered farmer ambling by with his donkey, or a chicken crossing the road. The resident kitten may playfully tug on your shoelaces as the Fiska kids bring out platters of fresh figs, rich olives, salty goat's cheese, almonds and home grown cherry tomatoes for you to graze on as you enjoy your wine.

It couldn't be any more perfect.



There is no pretention with a Fiska family wine tasting. The Fiskas like to make wine but they like to drink it more, and when you're in Roshnik you can't help but feel as though this is less about the money for them, and more about creating beautiful memories with new people…and drinking good wine of course!

First, you will enjoy a glass of each type of red wine (I use the term 'glass' very loosely as they are constantly being topped up!), and then it's on to the white Pules wine, one that I still consider my favourite white wine two years down the line.

After many clinking of glasses and yells of 'gëzuar,' the Albanian word for 'cheers,' the oak-aged Raki Rrushi is brought out and poured into fresh green chilli peppers from which you can enjoy the shot before crunching away on the alcoholic vegetable as the Raki heats you up from the inside.

By this point on our Albanian wine tour, both my friends and the Fiskas were suitably drunk, but that didn't stop us all from having multiple shots of both types of the Raki Rrushi and the Grape Raki before dancing around the garden to classic Albanian music, led by Uncle Petrit – he doesn't speak a word of English but he certainly knows how to party!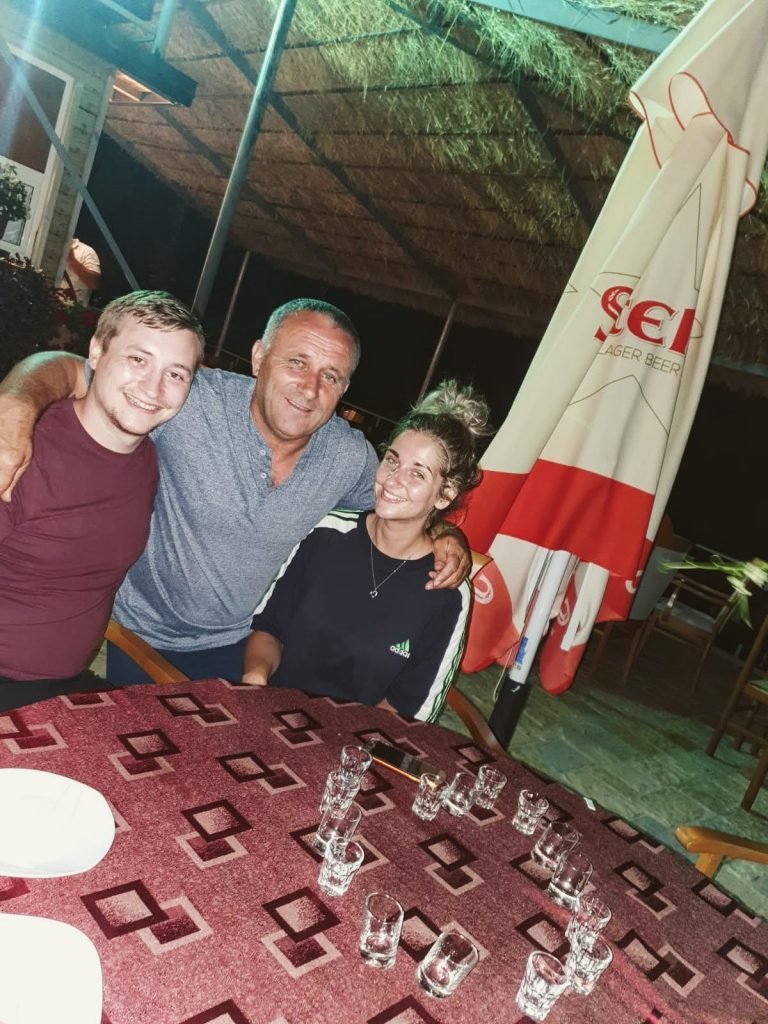 Restorant Roshniku

In fact, my friends and I enjoyed our trips to the winery so much that we returned a total of 3 more times over the next 2 weeks – I think that must be a record!

On our final trip to Roshnik, we even combined the wine tour with a food tasting up at the Fiska family restaurant, Restorant Roshniku (now the family also have a restaurant onsite but back in 2018 they took their guests to their restaurant in the village).

Making it to the restaurant by around 8pm, we were treated to a seemingly limitless supply of wine along with a mouthwatering selection of slow-cooked dishes from the kitchen.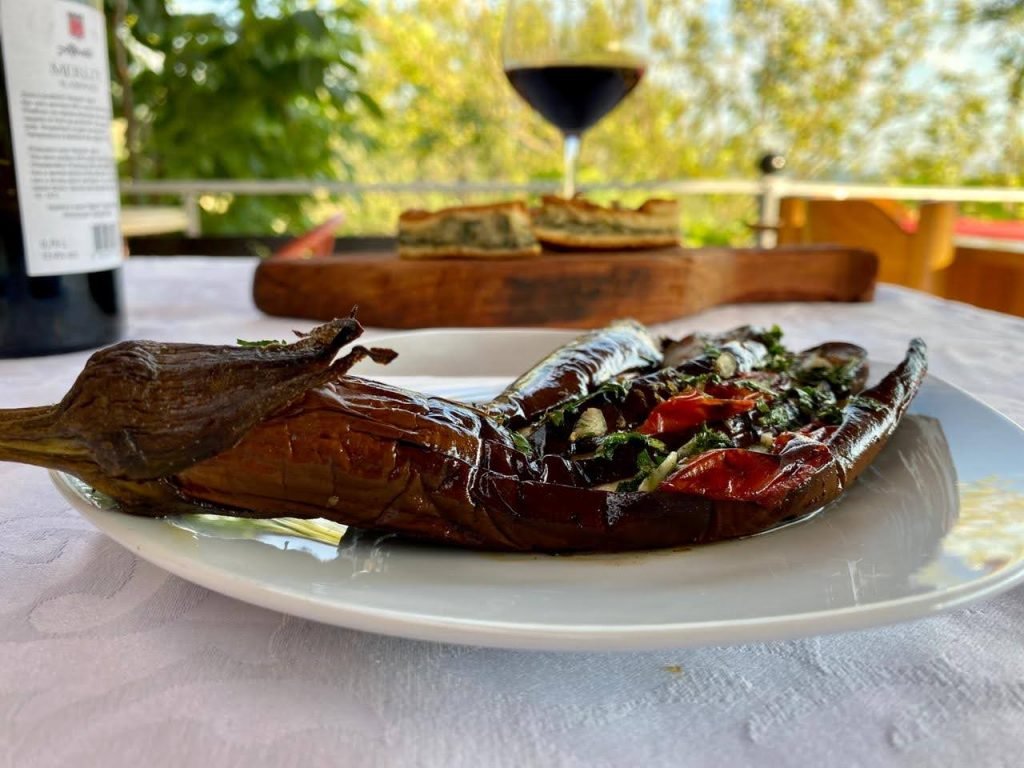 All of the food at Restorant Roshniku is 100% organic, from the baked chicken to the slow-roasted baby goat, fresh salads, grilled vegetables and of course, the cheese.

The vegetables are grown on the Fiska's land (think aubergine, tomatoes, cucumbers, peppers, onions, olives and more), and the meat is either purchased from farmers in the village or raised by the Fiska family themselves.

Back in 2018, I was adamant that the food at Restorant Roshniku was some of the best I'd ever tasted, and after my return to Roshnik in 2020, my opinion remains unchanged.

Whether it's the succulent baby goat that is roasted over a log fire for 4 hours, the doughy homemade bread with creamy goat's butter or the traditional pie (byrek) with tomato and aubergine, every dish the Fiska family prepares is to die for.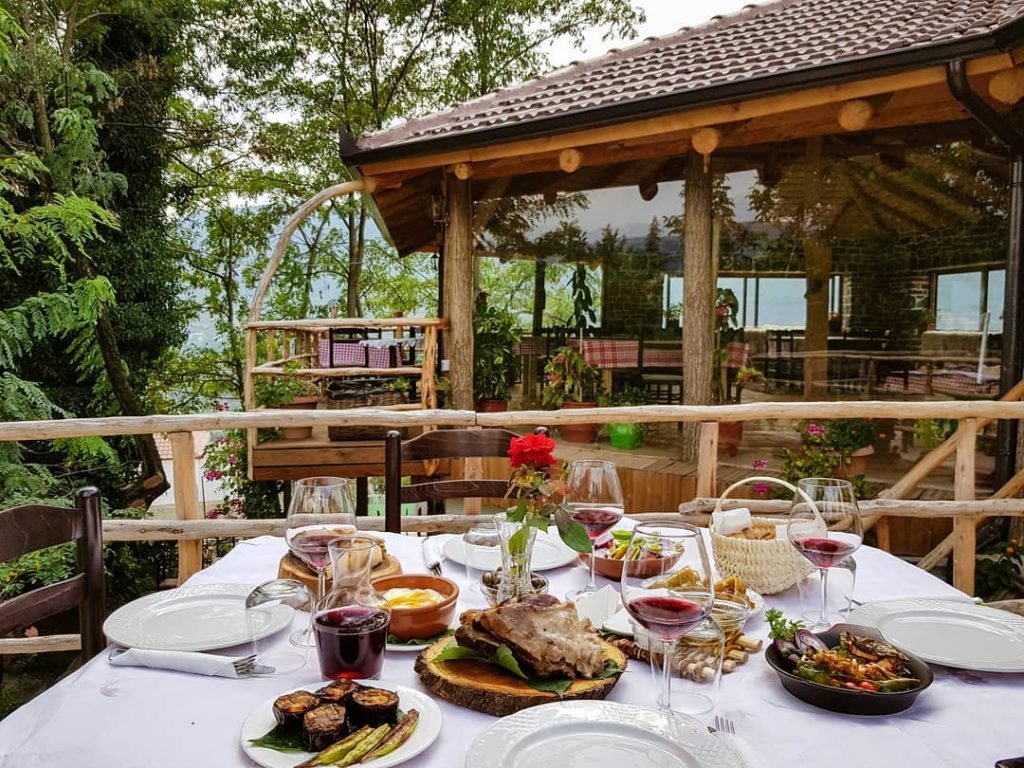 Returning to Roshnik


After I left Albania and continued my travels throughout Europe, my time up at Roshnik was never far from my mind.

As I attended various wine tasting experiences, from hilltop villages in Tuscany to one of the most prestigious wineries in the world in Moldova, and 16th century windmills in Mallorca, I couldn't help but compare them to Roshnik, and I would tell anybody who would listen that my evenings spent drinking Albanian wine in Roshnik were among my most treasured travel memories.

Perhaps it really is true that you never forget your first love?

Anyway, as 2020 rolled around and all of the absolute nonsense that came with it, I found myself longing to be back in the Land of the Eagles with a glass of wine in my hand and a smile on my face.

After a quick back and forth with Ardit over Facebook Messenger, it was confirmed – my boyfriend and I would be visiting Roshnik, but for longer this time.

In exchange for helping out at the winery, we would be given a private room in the guesthouse as well as all the food, wine and raki that we could consume – not a bad deal really!



And now, fast-forward a couple of months and here we are! While we thought that we would be gaining a volunteering position, instead we have gained a new family.

We have been welcomed into the Fiska fold with open arms (and bottles!), and it is difficult to imagine a life anywhere else right now!

Unfortunately though, it has to come to an end at some point – in just a couple of weeks we will be travelling down the Albanian coastline before heading back to our base of Sicily.

That said, I know that my love affair with Roshnik is far from over. Until the Fiska family tell me 'no,' I will continue to return to this breathtaking utopia again and again.

What started as a love for Albanian wine blossomed into love for an Albanian family, and I am not in the habit of abandoning the ones that I love.



Want to visit the Fiska family for yourself?


If you want to pay a visit to the Fiska family up at Alpeta Winery or Restorant Roshniku, they will always be happy to have you!

The wine tastings are around 12 EUR (but depending on the group size, the price can decrease), and a banquet of food with an unlimited supply of wine and raki costs around 30 EUR, but again, the bigger the group, the less everybody pays!

To reach Roshnik, you must go by car from Berat. Taxis in Albania are very affordable and if you ask in advance, the Fiska family may be able arrange a taxi for you!

To learn more about Alpeta Winery, you can visit their website here, and Restorant Roshniku's Facebook page can be found here.

I would like to also clarify that this is not a sponsored post. I am staying at Alpeta for free, but it is in exchange for work, just as many of my other volunteering positions have been over the years. I have not been asked to write this post, and I am not receiving anything in exchange for it!



so, what do you think? are you tempted to visit roshnik and try albanian wine for yourself? let me know in the comments below!

xoxo


If you liked this article and would like to support my work, please click the button above to donate a couple of bucks and buy me a coffee. The ad revenue that I receive on this website is minimal, so support from my readers enables me to keep creating content that you (hopefully!) love to read.


Disclaimer: Travelling Jezebel uses affiliate links. If you make a purchase on a recommended site, I may make a small commission at no extra cost to you.