Ah, San Vito Lo Capo; a slice of paradise and, as some may even say, the Sicilian Caribbean.

While intensely popular with Italian tourists, San Vito Lo Capo has yet to make it onto the radar of the vast amounts of sun worshippers who flock to Europe's sandy beaches every year to soak up those Mediterranean rays.

Once a quiet fishing village, San Vito Lo Capo has flourished in popularity in recent years due to its stunning white sandy beaches, azure waters and sugar cube houses with hanging baskets and enticing smells wafting from the kitchens.

I was lucky enough to visit San Vito Lo Capo not once, but twice during my Sicilian travels, and after witnessing its beauty first-hand, I felt compelled to write about it.

There really isn't much quality content about Sicily online, and there is even less in-depth and quality information about San Vito Lo Capo. This is crazy considering that not only is San Vito one of the major highlights of Sicily, but many believe San Vito Lo Capo is home to some of the most beautiful beaches in the whole of Europe, never mind Sicily!

With this in mind, I decided to put together a guide to San Vito Lo Capo, Sicily.

In it, you will learn where you can find the most stunning beaches in San Vito Lo Capo, the best things to do in San Vito Lo Capo, when to visit, where to stay, and how to get to San Vito Lo Capo from Palermo (amongst other places!).

So, without further ado, let's dive in!



Guide to San Vito Lo Capo – The Breathtaking Caribbean Jewel of Sicily


Why should you visit San Vito Lo Capo?


San Vito Lo Capo has been popular with Italians for years, with many Sicilians claiming that it is home to the most beautiful beaches in all of Sicily, and Northern Italians flying down to spend their summer holidays there.

But why?

What could a tiny fisherman's village have to offer?

Well, if the 3km white sandy beach nestled at the foot of Monte Monaco isn't enough to convince you of San Vito's charm, maybe the fact that San Vito is sandwiched in between not one, but two nature reserves, will be.

San Vito Lo Capo is also home to a melting pot of cuisines from various cultures (more on that later), boasts a mixture of sandy and rocky coastline and with its incredibly varied landscape, San Vito is the perfect choice for both beach bums and adventure travellers.

It is without a doubt one of the best places to visit in Western Sicily.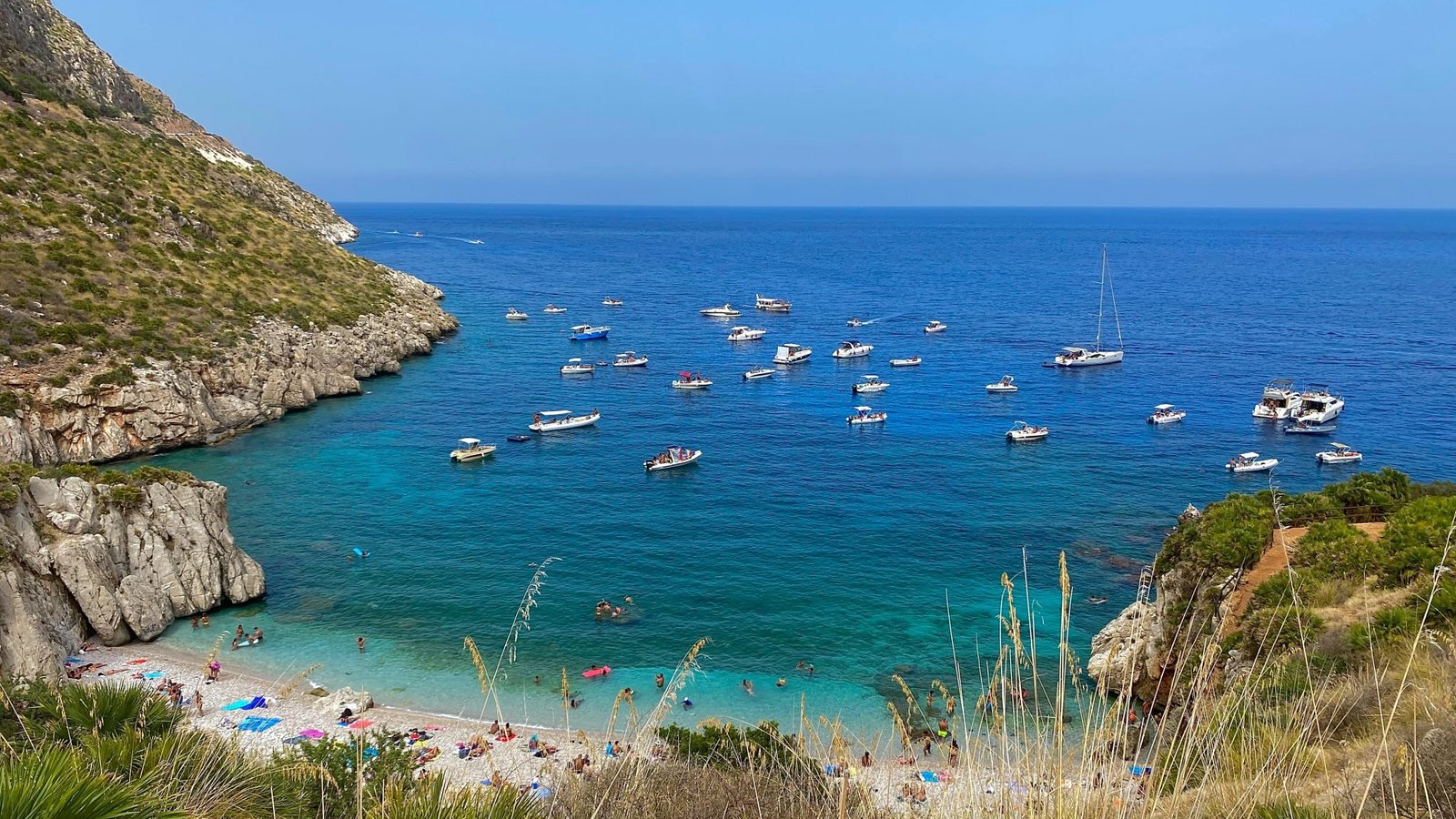 The Best Beaches in San Vito Lo Capo

If you're paying a visit to San Vito Lo Capo, there's one thing you can't miss – the beach.

Problem is, San Vito has several beautiful beaches to offer!

Here is a breakdown of the best San Vito Lo Capo beaches:



San Vito Beach


The most famous and main beach in San Vito Lo Capo is the aptly-named San Vito beach.

This pristine sandy beach stretches for almost 3km in the shape of a half moon and is where you can find pretty much every Sicilian in the hotter months.

In the summer, much of the space here is taken up by 'private beaches,' which are basically fenced-off areas of sand that you have to pay to enter. Inside, you will find sun loungers and parasols, changing facilities, toilets, showers, and a bar.

They all offer the same facilities at more or less the same price, and Italians bloody love them.

Personally, I can't stand them. The sunbeds are squished together like sardines, and I can't comprehend why anyone would install a bright orange picket fence (or pink, or blue) on an otherwise perfect beach. I also balk at the thought of paying to lie on a beach – I'm all for people renting out sun loungers, but when a 3km stretch of sand is almost entirely fenced off, it doesn't do it for me.

When I visited San Vito Lo Capo in July, I stuck to the free beach area at the far left side (furthest from the mountain). While it was still crowded, I managed to find an adequate area to lie in, and there was no fence separating me from the sea.

When I returned in September, they were almost all completely gone, leaving the beach as open and inviting as it should be.

Private beaches aside, the waters at San Vito beach are azure, crystal clear and straight out of a holiday brochure, especially if you visit outside of the summer months.



Bue Marino Cove


Having been named 'The Most Beautiful in Italy' back in 2015, Bue Marino Cove takes its title seriously.

With a cobbled coast, lush vegetation, mild climate and panoramic views, Bue Marino cove is situated just a few minutes from San Vito Lo Capo, yet it feels worlds apart.

Each night, the sunset turns the horizon red, and if that wasn't enough of a reason to visit, you can also explore the caves at Isuildda Beach, which is right next door.



Baia Santa Margherita


Baia Santa Margherita is a free sandy beach that can be reached on foot (yay!) from San Vito Lo Capo.

Located between the two hamlets of Castelluzzo and Macari, this beach is the perfect place to escape the crowds and take in Sicily's natural beauty, as you admire the hills of the Valle degli Ulivi and the profile of Monte Cofano.

In the high season, there is a small bar here that rents out umbrellas and sunbeds, but for the most part, this is a free beach.



Macari Beach


If you want to get even more off-the-beaten-track, head 4km out of town to Macari Beach.

Macari Beach has a raw and almost wild feel to it, and while its captivating beauty is almost unparalleled, it doesn't draw in the same crowds as San Vito Beach due to its lack of services (sun loungers, bars etc.).

With an emerald coloured sea, a mix of sand and shingle and a view of the Egadi Islands, this isolated slice of paradise is worlds apart from the hustle and bustle of San Vito Lo Capo beach.



Things to Do in San Vito Lo Capo


When it comes to things to do in San Vito, the list is minimal.

I know that for some people, not having a huge list of 50 things to tick off and see fills them with horror, but honestly, the beauty of San Vito Lo Capo is that you don't go there to do much!

San Vito is a place to relax.

It is a place to soak up the sun, explore nature and enjoy delicious food and fine Sicilian wine.

It is a place where you can enjoy the slow pace of life in the Sicilian sunshine, without worrying about sticking to a packed itinerary.

However, I would be doing you a disservice if I didn't round up some of the must-dos in San Vito Lo Capo, so here are my top picks:



1. Sunbathe!


You can't visit San Vito Lo Capo without dedicating ample amounts of time to sunbathing on the various beaches in San Vito.

Grab a good book, download some podcasts, make sure your skin is protected and just enjoy.

There are also various water activities you can do here, from speedboats and sailing boats to surfing, paddle-boarding and even diving!



2. Visit Tonnara del Secco


If you're interested in the history of San Vito Lo Capo, you have to visit Tonnara del Secco.

Located a short drive away, Tonnara del Secco used to be a 'tuna trap,' where fishermen would catch large tuna with 5km nets, massacring them in huge numbers when they came to the waters to reproduce.

Tuna were caught here using this lethal method from the 1400s all the way up until 1969, and you can still visit and admire the ruins of the old Tonnara (the old tuna factory) and the aristocratic buildings nearby, before cooling down with a swim and a spot of sunbathing.



3. Eat Couscous


You may not think of couscous when you think of Italian food, but Sicily is famous for the North African dish.

In fact, couscous is a staple in Western Sicilian cuisine, specifically the province of Trapani, and when I returned to Palermo from San Vito Lo Capo, the first question many Sicilians asked me was 'did you try the couscous?'

Sicilian couscous, or Couscous alla Trapanese, is traditionally made from hand-rolling durum wheat semolina into small grains and steaming them in an earthenware pot.

The dish is topped with fresh seafood and served with a rich fish stock seasoned with cinnamon, bay leaves, saffron and almonds.

If you're lucky enough to visit San Vito Lo Capo in September, like I was, you can even attend the annual Cous Cous Fest!

The event spans for an entire week, with chefs from all over the world flying to Sicily to compete in cooking shows to impress the attendees with their various versions of the dish, with stalls selling 40 different couscous recipes (amongst other Sicilian delights!), beach parties lasting all day and night, cooking classes and even Berber tents!

Something that you might want to do is to attend a Cous Cous masterclass with wine and fish in a local's home. That way you will be able to bring the traditional recipe into your own cooking when you return from Sicily.

Another Sicilian food that you must try in San Vito Lo Capo is pane cunzatu. This peasant dish, which literally translates to 'seasoned bread' is also called 'bread of misfortune' (pane della disgrazia) because it takes old, leftover bread and cheap and easy toppings to make a bite to eat in the absence of a proper meal.

Appetising, right?

Actually, pane cunzatu is really bloody tasty, and over the years has become a traditional Sicilian sandwich. Pane cunzatu is made by taking a hunk of crusty bread, drizzling it with extra virgin olive oil and layered with juicy sliced tomatoes, mozzarella, salt, pepper and oregano, with anchovies or sardines added on top. You can pick this sandwich up for a couple of euros in pretty much any café in San Vito Lo Capo.

If you want to know more about Sicilian cuisine then you should check out my post about street food in Palermo or read my review of a Palermo street food tour!



4. Caldo Freddo


Now that you've got your savoury fix, it's time to sample one of San Vito's sweet treats.

Caldo Freddo (literally 'Hot Cold') is a Trapanese artisanal gelato.

A soft biscuit or sponge cake is soaked in rum before a generous helping of gelato is added (hazelnut, chocolate, pistachio and coffee are popular choices) and topped with thick white cream. Then, melted hot dark chocolate is drizzled on the top, giving the dish its namesake.



5. Visit the San Vito Sanctuary


Situated in a beautiful piazza right in the heart of San Vito, the San Vito Sanctuary is a church whose origins lie in the 4th century, when it was a small chapel dedicated to St. Vitus, a Sicilian-born martyr.

Around it is a fortress that protected those inside from pirate raids, and the faithful felt as though they owed their lives to St. Vitus, and it became a common pilgrimage destination for Sicilians.

Nowadays, you can find a museum inside which displays sacred items, and marvel at the beautiful architectural elements within, such as the rose window, the watchtower, the ancient altar and the marble statue of the Saint child, which was created by the sculptor Gagini in the late 1500s.



6. Explore Zingaro Nature Reserve


Zingaro Nature Reserve, or Riserva dello Zingaro, is a 7km stretch of nature that is pretty much untouched by development.

Easily reached from San Vito (15 minutes by car), Zingaro Nature Reserve is a stunning amalgamation of pebble beaches, jagged rocks, Mediterranean vegetation and wildlife (there are more than 40 species of bird here!) that is unparalleled in the whole of Sicily.

Trees here include ash, oak, olive, almond carob, and the dwarf palm, amongst many, many others.

Go cliff diving, hiking or cycling and keep an eye out for owls, eagles, porcupines and even vipers!



Where to Stay in San Vito Lo Capo


I always stay in hostels when I travel, and San Vito was no exception. There is only one hostel in the whole of San Vito, and luckily for me, it happened to be awesome!

Timbuktu Hostel is an eco-friendly hostel with solar panels, a citrus garden, recycled wood and environmentally friendly cleaning products. The hostel itself and the gardens are BEAUTIFUL, and when I was there, there was always a homemade fruit cake or some sundried tomatoes lying around waiting to be munched on. There's even a rock climbing wall!

The free breakfast was one of the best hostel breakfasts I've had, and the beds were insanely comfy – it's definitely a hygge place.


When to Visit Sicily


The best time to visit Sicily, and certainly a beach town like San Vito Lo Capo, is not in the height of summer.

It isn't just that it's too hot.

It's that the beaches are so packed that you will not be able to move, let alone lie down and relax.

You also won't be able to enjoy the beauty of San Vito because the sun loungers and umbrellas completely take over the beach and obscure everything (even the sea!) from view.

It is the exact same in the nearby island of Favignana, which becomes absolutely overrun with Italian tourists in the summer months.

With that said, in low season beach towns tend to completely shut down, and who wants to go to the beach when it's too cold to sunbathe?

The best time to visit San Vito Lo Capo then, is during the shoulder season.

Shoulder season refers to the time just before or just after high season (so the months of June and September), when the weather is still glorious and there are enough people there to create a fun atmosphere without completely spoiling the place.

Shoulder season is also when you'll find cheaper accommodation and better service in bars and restaurants.



Where is San Vito Lo Capo, Sicily? Getting to San Vito.


San Vito Lo Capo is located on the North West coast of the island of Sicily, just under a two hour drive from the capital of Palermo.

The majority of people visiting San Vito Lo Capo come from Palermo, either because they have flown there, arrived there by bus from somewhere else in Sicily, or are based in Palermo and looking for a day trip.

Because of this, the directions I'm going to give you for actually getting to San Vito will assume that you are going from Palermo to San Vito Lo Capo.

There are two main ways of doing this:



Palermo to San Vito Lo Capo by car


The easiest and best way of getting from Palermo to San Vito Lo Capo is by renting a car. You can find the cheapest option on Rentalcars.com

However, something to bear in mind is that although renting a car in Sicily is cheap, you should only do so if you're a confident driver. Not only do the roads in Sicily tend to be pretty bad, but Sicilian drivers have a (well-deserved) reputation for being aggressive and erratic.

With that said, once you've made it out of Palermo and you're on the long, winding road to San Vito, you should be without problems. Renting a car also gives you the added bonus of being able to explore the area surrounding San Vito Lo Capo, including its many stunning beaches and the nature reserves on either side.

If you opt to do this, you can take the A29 Palermo – Mazara del Vallo motorway, exit at Castellammare del Golfo and then follow the signs to San Vito. The journey time is 1 hour 40 minutes.



Palermo to San Vito Lo Capo by bus


Although locals will always advise against public transport in Sicily, I took the bus from Palermo to San Vito Lo Capo and had absolutely no issues.

There are direct buses between the two cities every day (with a company called Autoservizi Russo) and the journey time is around 2 hours.

Bear in mind that sometimes things run a little behind schedule in Sicily, so don't be too alarmed if the bus isn't there when you arrive at the station!



Know Before You Go


The currency in Sicily is the EURO. Not everywhere accepts card payments so it is useful to carry cash with you.

San Vito is an incredibly safe city. You can read more about safety in Sicily here.

Sicilians have heard all of the mafia jokes before and they don't find them amusing. For people in Sicily, organised crime has been a dangerous and unpleasant reality for a long time and they don't need dumb tourists like us joking about it. In case you were genuinely curious, organised crime doesn't pose an issue for tourists at all.

Relax! Maybe your tour will begin late, or a restaurant won't be open at the correct time, or you won't be given enough change (or you'll be given too much if that requires less effort for the cashier!). Sicilians are super laid back, and if you expect everything to be organised and on time then you won't enjoy Sicily very much!

It is perfectly acceptable to have ice-cream for breakfast!

If you think people are arguing, don't worry. That's just how Sicilians talk to each other. And if they are arguing? They'll be hugging before you know it.



San Vito Lo Capo, Sicily | Final Thoughts


San Vito Lo Capo is a wonderful choice if you want to find some of the best beaches in Sicily, be at one with nature, and enjoy the laid back Mediterranean vibe.

I thoroughly enjoyed both of my visits to San Vito, and if I could, I'd return again in a heartbeat.

I hope that this article managed to help you plan your trip to San Vito Lo Capo. Please let me know in the comments section if you have any questions, I'd be happy to help!

Until next time,

XOXO

If you liked this article and would like to support my work, please click the button above to donate a couple of bucks and buy me a coffee. The ad revenue that I receive on this website is minimal, so support from my readers enables me to keep creating content that you (hopefully!) love to read.

Disclaimer: Travelling Jezebel uses affiliate links. That means that if you make a purchase on a recommended site then I may make a small commission at no extra cost to you!