Trapani is a great place to visit in Sicily, whether you're looking for a place to base yourself from while you explore the western side of the island, or if you're looking for a single destination to visit where you can relax and enjoy some peace and quiet.

Known as the 'City of Salt and Sail,' the port city of Trapani has supplied salt to the islanders for over 3000 years, as well as being a historically significant fishing port, famous for having some of the best tuna in the world.

It is a small city, with a population of less than 70,000 people, and has a much more tranquil atmosphere than other Sicilian cities like Palermo and Catania.

Trapani is also way less touristy than other parts of Sicily, so if you're looking for an authentic Sicilian city with great food, sun drenched beaches and a rich history, Trapani may just be the spot for you.

In this post, I'll tell you all you need to know about Trapani, including the best things to do in Trapani, day trips you can take, where to stay, and of course, the best place to try Couscous alla Trapanese.

So, grab a drink, a snack, and get comfy, because we're going to get into it.



The 15 Best Things to Do in Trapani, Sicily


1. Centro Storico


The historical centre of Trapani is on a very small peninsula that can easily be explored on foot in an hour or so.

With a unique blend of Baroque, Moorish and Greek architecture, sea on either side and a seemingly infinite number of palaces, churches and mansions, Trapani Old Town is incredibly charming.

The main promenade, Corso Vittorio Emanuele, is full of chic bars, cafes, boutiques and restaurants, as well as tonnes of majestic Baroque buildings, which includes the spectacular town hall, Palazzo Senatorio.

Other streets not to miss are Via Garibaldi and Corso Italia, and if you like churches, the 15th century Cattedrale di San Lorenzo (Cathedral of Saint Lorenzo), Chiesa del Collegio dei Gesuiti (Church of the Jesuit College) and Chiesa delle Anime Sante del Purgatorio (Church of the Souls in Purgatory) are definitely worth a visit.

If you love green spaces, Villa Margherita Park is the best park in the city, and for museum lovers, you may want to check out the Museo d'arte Contemporanea San Rocco (Museum of Contemporary Art), or the Museum of Optical Illusions, which will provide you with plenty of funny photo ops!



What to see in Trapani Old Town

Corso Vittorio Emanuele
Palazzo Senatorio
Sant'Agostino
Via Garibaldi
Corso Italia
Cattedrale di San Lorenzo
Palazzo Cavarretta
Chiesa del Collegio dei Gesuiti
Chiesa delle Anime Sante del Purgatorio
Villa Margherita Park
Museo d'arte Contemporanea San Rocco
Museum of Optical Illusions
Santuario di Maria SS di Trapani
Agostino Pepoli Regional Museum

2. Paceco Salt Pans


For centuries, the main economic activity of Trapani was its salt extraction, and while this is no longer the case, the salt pans are one of the main things to see in Trapani (and Sicily in general) with their photogenic mills, pink flamingos and the best sunsets in the whole of Sicily.

The famous Salt Road, or Via del Sale, takes you along the salt pans from Trapani to Marsala, inside a nature reserve, and if you head to the salt museum, which is located in a 17th century mill, you can rent a bicycle and cycle around the salt pans.

Naturally, you can also buy the various gourmet salts produced here – I got one with chilli flakes, and it is delicious.

You can visit the salt pans by yourself, but I recommend booking a tour to get the full experience.

This 2-hour salt pans tour includes a local guide who will explain the traditions of salt-making in the area as you explore 3 family-owned salt pans, a visit to the salt museum, sampling of some different flavoured salts, and the chance to spot some wild flamingos. The price also includes a return transfer.



3. Trapani beaches


Although the city of Trapani itself is not famous for its beaches, there are still some decent spots where you can relax and enjoy the Sicilian sunshine and warm waters.

Spiaggia delle Mura di Tramontana is situated right below the city walls and is a stretch of pebble beach favoured by fishermen and local sun worshippers. It isn't the prettiest beach you'll ever see, but it does the job.

Spiaggia di San Giuliano is a long stretch of sandy beach just north of the city centre and it is equipped with all the facilities you could possibly need.



4. Buy some red coral souvenirs


Master jeweller and goldsmith Platimiro Fiorenza is considered one of UNESCO's Living Human Treasures and for over 50 years, he has specialised in creating what can only be described as masterpieces with the setting of Sicilian red coral.

He has produced pieces for the fashion house Fendi, and you can even find 6 of his works in the Vatican museum!

You can find his jewellery shop, Gioielleria Fiorenza Platimiro Rosso Corallo, on Via Osorio 36, where he not only sells his jewellery, but you can also see larger pieces which depict scenes from the bible, as well as a crown worth 80,000 EUR that was originally made for a Russian Tsar!

Towards the back of the shop is the workshop, where you might even be lucky enough to see the master at work!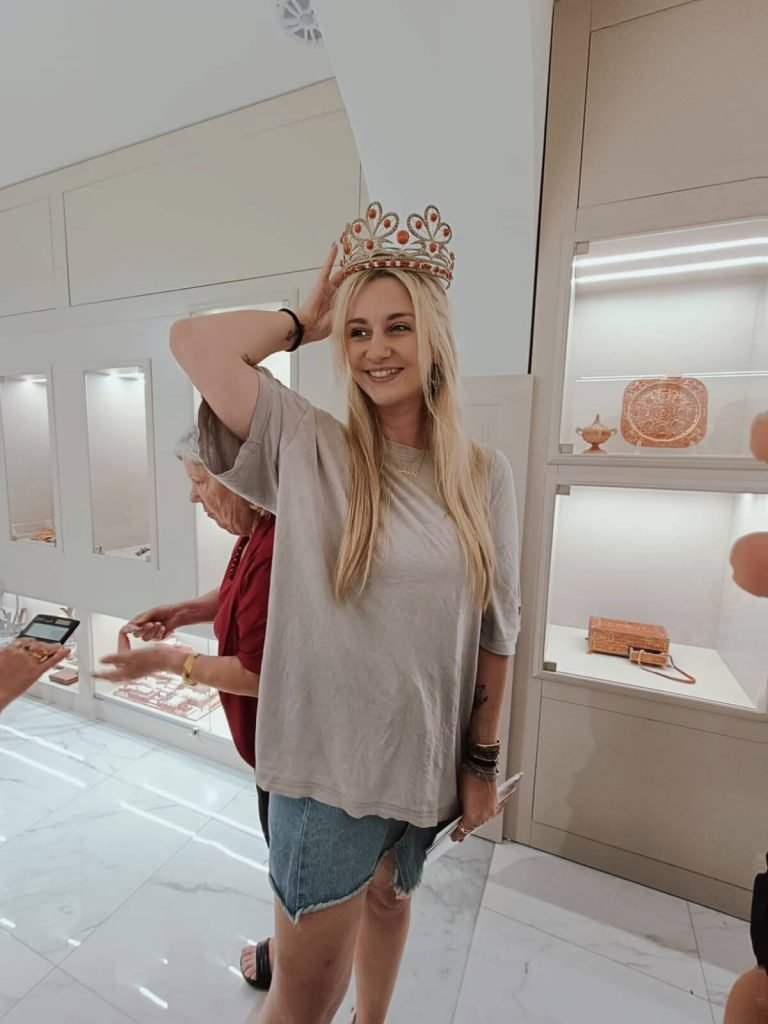 5. Mura de Tramontana


The Mura di Tramontana is a short (1km) stretch of wall that was used during the Spanish domination of Trapani.

Taking a stroll along it is one of the nicest things to do in Trapani, and you can admire the pretty houses and enjoy the sea lapping at the shore.

You will also come to the narrowest point of Trapani, where you can actually see the sea on either side of you!

This walk is best done at golden hour, when the reflections on the water and buildings are simply breathtaking.



6. Piazza Mercato del Pesce


Piazza Mercato del Pesce is a piazza by the sea with lovely arches and sea views, as well as a statue dedicated to the Greek Goddess Aphrodite.

Head to Bar Brigantes, where you can enjoy a traditional Italian breakfast or aperitivo cocktail and sit outside on the piazza itself.



7. Eat Couscous alla Trapanese


You may not think of couscous when you think of Sicilian food, but Sicily is famous for the North African dish.

Sicilian couscous, or Couscous alla Trapanese, is traditionally made from hand-rolling durum wheat semolina into small grains and steaming them in an earthenware pot.

The dish is topped with fresh seafood and served with a rich fish stock seasoned with cinnamon, bay leaves, saffron and almonds.

The best place to try Couscous alla Trapanese in Trapani is Cantina Siciliana, where award-winning couscous chef Pino Maggiore prepares the dish from scratch every day.

He is a firm believer in making the actual couscous himself because, and I quote, 'couscous from the shop is like a woman with fake breasts.'



8. Torre di Ligny


The Torre di Ligny was built in 1671 to protect the coastline of Trapani. During World War II, it was armed and served as a Naval anti-aircraft post, and today it is a wonderfully photogenic spot.

Inside the tower is a civic museum displaying archaeological pieces, and you can also go up to the roof and enjoy the sea views from the top. I can't speak to how good the museum is because I didn't get a chance to visit, but as admission is free, it's worth checking out if you have the time!

The museum is open from May to September every day from 10:00am – 12:30pm, and then 5:00pm – 7.30pm.



The Best Day Trips from Trapani


While Trapani itself is a lovely place to visit, it's also a great place to base yourself if you want to explore the West of Sicily due to its strategic location.

Trapani is not only a short drive away from some of the prettiest places to visit in Western Sicily, but it is also the place you'll need to be if you want to explore the Egadi Islands.

Lastly, Trapani sits right at the foot of Monte Erice, making a day trip to Erice ridiculously easy.

Here are the best day trips from Trapani.



9. Day trip to Erice


The ancient town of Erice is one of the most popular places to visit in Sicily, and it isn't hard to understand why.

Widely heralded as one of the most beautiful villages in Italy, Erice is a fortified medieval village that towers over Sicily at 751m above sea level, sitting atop Monte San Giuliano.

It is often enveloped in a thick fog known as Venus' Embrace, and is famous for its confectionary, ceramics, woven rugs and two fairy tale castles.

Spend an afternoon wandering around at your leisure, venturing down quiet alleyways, sampling the gorgeous Erice DOC wine, and enjoying the breathtaking views from the mountain.

To get to Erice, you can take the 10 minute cable car from Trapani. It costs 5.50 EUR for a one-way ticket, or 9 EUR return.

You can read my full guide to Erice here.



The best things to do in Erice:

Castello de Venere
Torretta Pepoli
Visit the 3 city gates
Visit the churches
Climb the bell tower Torre de Re Federico Secondo
Relax in the Giardino del Balio
Go wine tasting

10. Day trip to Favignana


Favignana lies just off the coast of Sicily, and is the largest of the 3 Egadi Islands (the other 2 being Levanzo and Marretimo).

While you're there, be sure to visit the old tuna factory (now a museum), the villa where the influential Florio family used to live, and explore the island by e-bike to discover the best Favignana beaches.

Favignana island is just a 30 minute boat ride from Trapani, making it one of the easiest and best day trips from Trapani, and you can even visit a couple of islands in one day if you like!

This full-day cruise to Favignana and Levanzo includes lunch, swimming and time to explore both islands, along with commentary from your guide.

While you only get a couple of hours in Favignana and 1 hour in Levanzo, it's definitely enough time to see the main sights, and IMO it is the best option if you're pushed for time.

The best way to get from Trapani to Favignana if you're visiting independently is by the Liberty Lines hydrofoil, which runs regularly and can cost as little as 20 EUR for a return ticket.

Check out my full guide to Favignana here.



11. Temple of Segesta


About 30 minutes from Trapani is one of the most important archaeological remains on the island, the Temple of Segesta.

Situated in the middle of the countryside, the Temple of Segesta is beautifully preserved and offers gorgeous views.

You can also go and see the ancient theatre, which is located on the top of Mount Barbaro, 400m above sea level and would have held up to 4000 people in ancient times! Like the old theatre in Taormina, it still hosts plays and concerts in the summer months.

The theatre is a 2km uphill walk from the temple.



12. Palermo


Palermo is the rugged capital of Sicily, and I make no secret of the fact that it is one of my favourite places on earth.

With a gritty, grungy vibe, Palermo is home to bustling street markets, majestic buildings like the Teatro Massimo (which actually appeared in The Godfather Part III!), and really crazy street food.

If you want to experience a Sicilian city that is the total opposite of Trapani, a Palermo day trip is a must.

If you need more convincing, here are my 8 reasons to visit Palermo, my guide to Palermo street food, and also my whopping list of 21 cool things to do in Palermo.



13. San Vito Lo Capo


If you're craving white sand beaches that seem to stretch for miles, you have got to get yourself to San Vito Lo Capo, which is a 50 minute drive or 90 minute bus journey.

Once a quiet fishing village, San Vito Lo Capo has flourished in popularity in recent years due to its stunning white sandy beaches, azure waters and sugar cube houses with hanging baskets and enticing smells wafting from the kitchens.

San Vito Lo Capo is also home to a melting pot of cuisines from various cultures (more on that later), boasts a mixture of sandy and rocky coastline and with its incredibly varied landscape, it is the perfect choice for both beach bums and adventure travellers.

You can read my in-depth guide to San Vito Lo Capo here.



14. Lo Zingaro Nature Reserve


If you love nature, adventure, beautiful scenery, and unspoilt beaches, you'll love Lo Zingaro Nature Reserve.

This protected area was the first ever nature reserve in Sicily, and to this day it is a completely traffic-free zone, and even cycling is not permitted here!

You can walk the easy 7km main trail from San Vito Lo Capo to Scopello, or explore one of the many hiking and walking trails that lead to sandy beaches and hidden coves.



15. Tonnara di Scopello


If you have a car and are visiting Trapani in the shoulder season (you'll want to avoid this place in the summer because it's simply too busy), you might want to pay a visit to the private bay of the Tonnara di Scopello.

This former tuna fishery is now an elite hotel, but you can pay to go inside and sunbathe on its private beach.

I understand that this may not sound very appealing – why would you want to drive for 45 minutes to go to some hotel? – but the Tonnara di Scopello is one of the most beautiful places in Sicily, and being able to visit and enjoy its splendour is a real bucket list experience.



How many days in Trapani?


If you only want to wander around Trapani's old town and not go any further, then of course 1 day in Trapani will be enough to see all of the churches and other major sights.

However, going to Trapani without visiting the salt pans or taking the cable car up to Erice is a crime, and for this reason, I recommend spending at least 3 days in Trapani.

If you are using Trapani as a base for exploring Western Sicily, then you could spend a week there and still have so much left to see.

If you were to do every single day trip and activity I've recommended in this post (and trust me, there are way more day trips I could have mentioned), you would need at least 9 or 10 days to squeeze everything in, so be sure to plan your trip carefully to avoid missing out.



Where to stay in Trapani


I stayed in 2 different accommodations whilst in Trapani.

The first was called WeLive Trapani and it was a luxury aparthotel with rooftop pool and onsite gym. The apartment was super slick and modern, and had a great kitchen with SMEG fridge. There were also lots of toiletries in the bathroom. I really enjoyed my stay here.

The second place I stayed in Trapani was the Hotel San Michele, which I also adored. The mini fridge was stocked with Sicilian treats, the breakfast was to die for, and the bed was really comfy. The rooms were colourful and quirky, which I loved.

Both hotels were very centrally located and I'd recommend either.



How to get to Trapani


Trapani has its own airport and there are often low-cost flights from the UK and other European countries to Trapani.

You may also want to fly to Palermo, which is just over an hour away. You can take a coach directly from Palermo airport to the centre of Trapani for less than 10 EUR.



Trapani FAQ

Is Trapani worth visiting?
Trapani is definitely worth visiting, not only as a destination in itself, but also as a base for exploring the West of Sicily.
Is Trapani safe?
Sicily on the whole is very safe, but Trapani is especially so. While some of the buildings on the outskirts of town may look drab, Trapani is not a dangerous city.
Is Trapani expensive?
Trapani, and Sicily as a whole, is one of the cheapest places to visit in Italy.
Are there nice beaches in Trapani?
While there are certainly a few nice beaches in the centre of Trapani, you can drive a bit further afield to San Vito Lo Capo and the Tonnara di Scopello for beaches that would rival the Caribbean.

Some posts you may find useful:


Things to Do in Trapani | Final Thoughts


I think it's safe to say that there are plenty of reasons to visit Trapani and things to keep you busy while you're there.

Whether you want to stay in the city itself, eating your weight in seafood and soaking up the sun, or explore the countless towns and villages nearby, Trapani is a great choice, and with its affordable prices, great climate and friendly people, it is a fantastic year-round European city break.

That's about it for now, but below I have included some more posts that you may find useful if you're planning a trip to Sicily, and as always, you can ask me any questions you have in the comments section below and I will get back to you!

Until next time,

XOXO



If you liked this article and would like to support my work, please click the button above to donate a couple of bucks and buy me a coffee. The ad revenue that I receive on this website is minimal, so support from my readers enables me to keep creating content that you (hopefully!) love to read.


Disclaimer: Travelling Jezebel uses affiliate links. If you make a purchase on a recommended site, I may make a small commission at no extra cost to you.