When I arrived in Italy 5 months ago (it wasn't the plan to stay here for 5 months but hey ho), I wasn't expecting much of a culture shock.

I'd just spent two months travelling through Ukraine, Transnistria, Moldova, Romania and Bulgaria, and although I love the East, I was looking forward to being in Western Europe again and returning to some semblance of familiarity.

Ha! Not likely.

It may come as a surprise that I am writing a post like this about Italy as opposed to anywhere else I've been. Italy doesn't seem overly 'foreign' to most people, especially not compared to some of the other countries that I mentioned.

However, there are a lot of unspoken rules here in Bella Italia, and if you're planning to visit Italy for the first time then I suggest you read this list to avoid embarrassing mistakes in the future!

Before we begin though: it should be noted that most of my time in Italy has been spent in the South, specifically Palermo, where things are a little…different.

The further south you go in Italy – and I say this with ALL the love – the less things seem to…function. Everything in the south is a lot more laid back than in the north, and so some of what I say will not apply to Northern Italy. I am also learning Sicilian (or rather Palermitano) customs rather than general 'Italian' customs so if I make any mistakes then please go easy on me – I'm just a foreigner!



31 Things to Know Before Going to Italy


1. Everything runs at its own pace


Some of my lovely American readers may be frustrated by the customer service and general timeliness in Italy. The server in a restaurant is often not in a particular rush to serve you, restaurant opening times are often more of a guide, and if your Italian friends tell you to meet them at 9:00pm then just know that you'll be waiting alone if you actually arrive at 9.

Personally, I like this laid back approach, but it can definitely be frustrating if you're on a tight schedule and actually want to get something done in a timely manner!



2. You should always have cash with you


While many places do take card payment, it is not uncommon for smaller establishments to only take cash, and so it is wise to always have some cash with you when travelling in Italy!



3. Most public toilets don't have seats


And by 'public toilets' I mean toilets in bars and restaurants as well as just in train stations. Don't ask me why but it is VERY uncommon to see a toilet with a toilet seat. This is the worst thing about Italy for me (although my thigh muscles have definitely got better from all the squatting).



4. How you greet people really depends

Oh, how I wish this was as simple as a kiss on each cheek!

In Palermo, when a girl is meeting somebody for the first time, a handshake is common. Then, when she knows them better, it moves to a kiss.

HOWEVER, while some guys have told me that I should only kiss them once on the cheek, others go in for two kisses and I don't know which one is 'correct.'

What's more, guys in Palermo that know each other will kiss each other twice but apparently in other parts of Italy it is not common for men to kiss each other at all.

Basically I have been in Italy for 5 months and I have no idea what I am doing when I greet people in Italy so all I can say is good luck.



5. Queuing – or lack of


As a British person, queuing is in my DNA but Italians do not queue. They just don't. To 'queue' in Italy means basically all shuffling to the front and trying to make it look as if you were there first, maybe elbowing people in the process.

If you're trying to get onto a packed bus, don't be scared of barging your way on otherwise you may just get left behind.



6. Italians don't all speak Spanish


Yes, the languages are somewhat similar but that doesn't mean that you should just go around saying 'hola!' and 'gracias!' to everybody! It's so ignorant to just speak to Italians in Spanish, and it really isn't difficult to replace hola and gracias with ciao and grazie.



6. Smoking in Italy


Smoking is veeeeeeerrry common in Italy so if you have a huge aversion to cigarette smoke, then this may not be the place for you!

If you are a smoker, you should know that you can't just buy cigarettes in a grocery store. You have to go to a special tobacco shop (tabbacchi) or buy cigarettes from a machine, but this requires an Italian ID card as proof of age so you may need to bring an Italian friend with you!



7. What to wear in Italy


Italians take pride in what they wear and you won't find an Italian going to the supermarket in their pyjamas or walking down the high street in khakis and flip flops!

I hate to say it, but American tourists are probably the worst dressed tourists (sorry!!!), and stand out a mile in Italy. If you want to blend in in Italy, dress a little smarter. This doesn't mean getting dolled up to the nines, but for the love of god, please don't wear khakis and bum bags (or 'fanny packs!').



8. Hand gestures


Yes, it's true – Italians talk with their hands! There are so many complex hand gestures and signals that it is almost a language in itself, especially here in Sicily.

To be honest, the general rule of thumb (no pun intended!) is not to do this unless you really understand the gestures you are making and are speaking in Italian. It just comes across as try-hard or mocking, and Italians can get annoyed (or just plain bewildered) to see a tourist saying what the hell?! while making the this food is tasty gesture.



9. Dress modestly in churches


Italy is a Catholic country and you should dress modestly when visiting churches, even the touristy ones in big cities.

So many people travel to these churches and queue for hours before being told that they are not allowed to enter due to the way they are dressed. Even in the summer months when the weather is hot, you should make sure your shoulders and cleavage is covered in a t-shirt, and not wear short shorts or a skirt (the shorts rule can sometimes apply to men as well).



10. You often have to pay for the beach


I am a true beach bum and something that makes me want to cry about Italy is that in the summer months, most of the beaches become almost fully privatised, with 'lidos' or private beach clubs charging an entrance fee to use their portion of the beach.

In Catania, Sicily, 95% of the beach is taken up by beach clubs (private sections of beach with beach bars, restaurants etc.) that charge entrance fees and then extra fees to use the sun loungers (you're looking at 15 EU for entrance and a lounger), and the tiny part of the beach that is free is rugged, dirty and not so nice.

In other Sicilian beach towns such as Mondello and San Vito Lo Capo, there aren't beach clubs per se but lidos (fenced off areas with rentable sunbeds) and still 99% of the beach is taken up by sun loungers that are so close to one another they are almost touching.

Not only do I think it a crime to make people pay to go to a beach, but these types of businesses completely spoil the view. What's the point of having miles of white sand coast if you can't see it?!

However, come September (in Western Sicily at least – I can't speak for other places), these businesses disappear, taking their loungers with them, and the beach becomes paradise once more.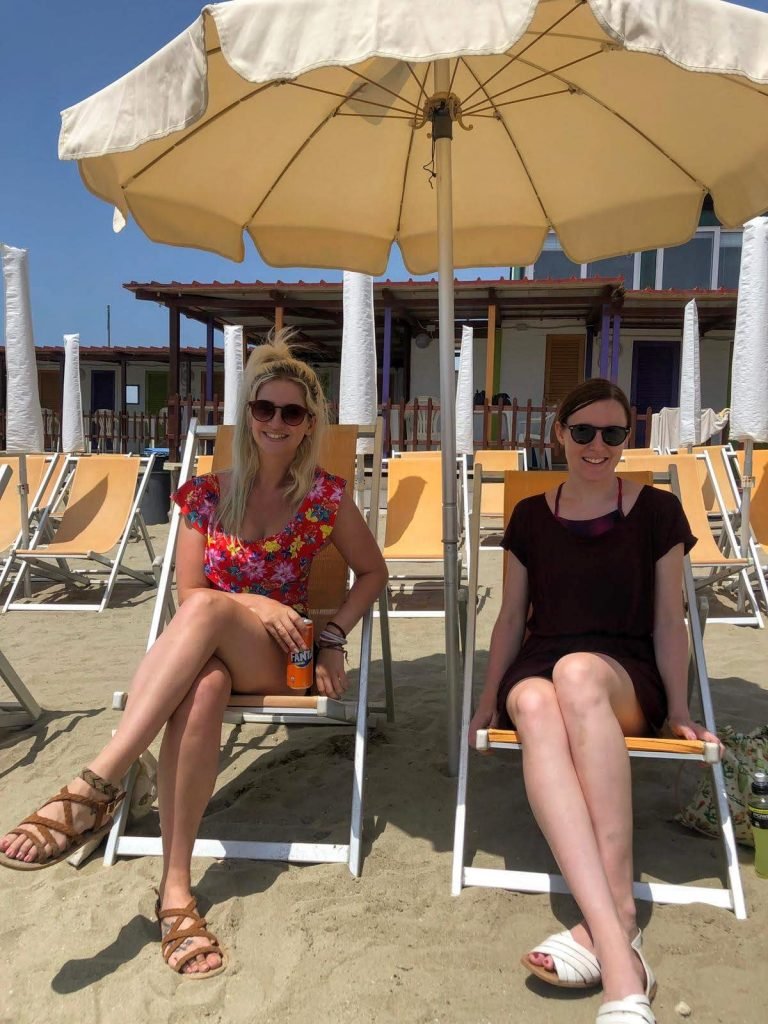 11. Don't assume that everybody speaks English


Of course in big cities, people are likely to speak English, especially if they are from the younger generation, but don't take this as a given, especially in smaller cities and villages.

It is worth learning just a couple of words in Italian before you travel here – people really like to see somebody trying and are much more likely to try and help you if they can see that you are making the effort! This goes in every country and not just in Italy.



Coffee Rules in Italy


Coffee is arguably the Italian national drink and it is taken very seriously! Italians are very particular about everything coffee-related, from the type of coffee they drink, when they drink it, and what if any, food they pair it with.

I could talk all day about coffee in Italy (let me know in the comments if you'd be interested in an entire post about it!), but for now I've included the basic coffee rules that you need to know before visiting Italy!



12. Cappuccino is only before 11am


If there is one thing that really bugs me about Italy, it is 'the cappuccino rule.'

When I was staying in Tuscany earlier this year, my family (British but living in Italy) would recoil in horror if I ordered a cappuccino in the afternoon.

You're such a tourist! Cappuccino is a morning drink! They would exclaim, shaking their heads.

Now look. It is indeed true that for most Italians, cappuccino is a morning drink, often eaten with a brioche or sweet pastry (never with something savoury!). There is an old wives' tale here in Italy that drinking milk in the afternoon is bad for digestion, and so most Italians will just opt for a regular caffe after lunch as opposed to having a cappuccino.

So yes, it is rare to see an Italian ordering a cappuccino past breakfast time, and yes, you will look like a tourist if you order one. That said, you probably look like a tourist anyway. Let's be honest, with my light eyes and blonde hair, I'm really not fooling anyone, and if I want a cappuccino then I'm gonna order a damn cappuccino!

Servers in Italy are so used to tourists ordering a cappuccino that they won't bat an eyelid. The only people who have ever made comments about my afternoon cappuccino habit have been Brits.



13. Caffe latte vs. latte


If you ask for a 'latte' in Italy, you will most likely be met with a slightly confused expression and a glass of warm milk. 'Latte' in Italian simply means 'milk,' and if you want your shot of coffee then you must ask for a 'caffe latte!'



14. Coffee is espresso


If you ask for a caffe (coffee) in Italy, you will be served something like an espresso. This is a regular coffee in Italy, and if you want extra water then you will have to specify.

Coffee in Italy is drunk fast, in one or two sips, and always standing at the bar. You can sit down if you like but the price will increase significantly as you will have to pay a coperto or 'table fee' which is usually 3 times the price of a simple espresso (more on the coperto later). This is the reason why you will often see Italians stood enjoying their coffee at the bar!

It is also worth noting here that coffee is never drunk with food, and aways before or after.



Italian Food Rules


When you think of Italy, what do you think of? My guess is that pizza and pasta probably came to mind! However, just as with coffee, Italians are very particular about their food and there are definitely a few 'rules' that you need to know about eating in Italy!

Not only that, but there are a few customs and 'quirks' that you should probably be prepared for if you don't want to starve on your trip to Italy!



15. Breakfast in Italy


Breakfast in Italy is a light meal and usually sweet. Italians will eat a brioche or sweet pastry, along with a cappuccino. Cookies, cakes and gelato (yes, gelato!) are all perfectly acceptable things to eat for breakfast in Italy, and most breakfasts served in hostels and guesthouses will consist of croissants and other sweet treats.

Italians find it so strange to eat a savoury breakfast, and while it is definitely possible to find bars (what we know as cafes) serving savoury sandwiches, they are definitely not a popular choice, and if you're looking for eggs and bacon then you can forget it!

One Italian guy told me that the strangest thing about English people is that we eat eggs for breakfast!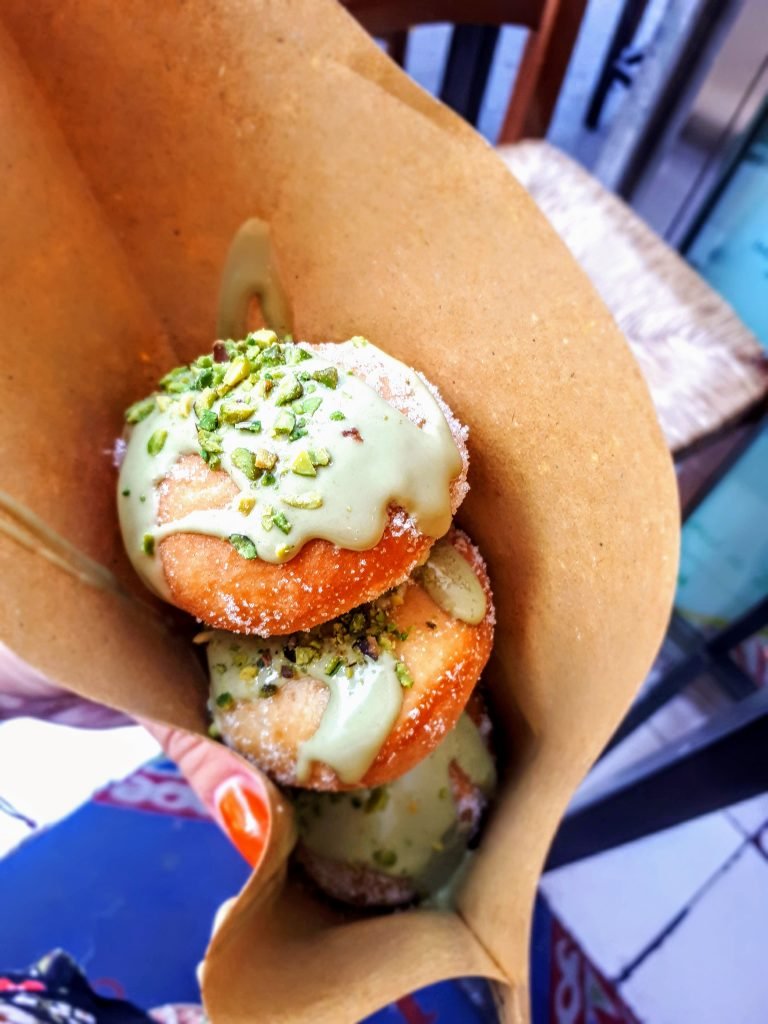 16. Lunch in Italy


Lunch is a very important meal in Italy, but most restaurants will close in the afternoon (around 3pm) and not reopen until 7 or 8pm. As somebody who likes to enjoy a late lunch, I have been caught out by this one too many times, and so it is important to remember to head out early for lunch!

One great way of saving money in Italy is by taking advantage of the lunch menus. The lunch menu is a set menu (where you have a few options) and is usually comprised of a pasta dish to start, followed by meat or fish, a side dish, coffee and a glass of wine/soft drink. The cost of these menus varies but it is possible to find them for as little as €10 in the cheaper parts of Italy.



17. Understanding Italian menus – pasta is not a main course!


In most countries outside of Italy, pasta is often served as a main course. However, in Italy, this is not the case! Italian menus have a very specific structure and it is important to understand this before going out to eat in Italy!

The first section of the menu is antipasto, which is starters/snacks. Here you will find cold meats and cheeses, bruschetta etc. There may also be regional specialities in this section of the menu such as fried polenta in the mountains and arancini in Sicily.

Next is primi/primo and this is the first course. In this section you will find pasta, dumplings (gnocchi) and risotto.

Following the primo is the secondi, which are meat and fish dishes. You will find lamb ribs, grilled squid and more here, but beware that this dish does not include any accompaniment and if you don't order one separately then you may just be faced with a giant slab of meat and nothing else!

For side dishes, head on over to the contorni section of the menu. Here you will find potatoes, fries, grilled veggies and salads to accompany your secondi.

Finally, for those with a sweet tooth, the dolce section of the menu is where you will find all the sweet treats your heart desires!

Now, this may seem like an awful lot of food, and it is. Truth be told, I'm not sure that I have ever seen one person order antipasto, primo, secondi, contorni and dolce. While I have occasionally ordered both primo and secondi, I am much more likely to only order a primo as my main dish, or perhaps share a primo with my dinner partner and order our own individual secondi (this is very common in Italy and it is not strange at all to ask for one primo and two plates).



18. Italian menus are very literal


Italians are very literal when it comes to describing the food on their menus. If you order a 'tomato salad,' you are probably just going to get a plate of sliced tomatoes. Now, while slicing up a handful of tomatoes would not magically constitute a salad in most countries, in Italy it does, and so when looking at the contorni section of the menu and see a range of salads, be sure to read the menu in a very literal way and don't expect anything extra!



19. Pizza is cheap


Even in Naples, the birthplace of pizza and home of the most famous pizza in the world, pizza is always cheap (I think I paid around 4 EU for pizza on the main tourist street in Naples).

Restaurants where pasta dishes can go for 12 EU and secondi dishes are around 15 EU usually have pizza available for 5/6 EU. If a restaurant serves pizza, there is usually quite an extensive pizza list and the pizzas are in a separate section of the menu.



20. Food changes dramatically depending on where you go


While the uninitiated may just associate Italy with pasta and pizza, the truth is that the type of food you will eat here in Italy changes drastically depending on where you go.

'Spaghetti bolognaise' is not an Italian dish at all but is named after the tagliatelle with ragu (meat sauce) found in Bologna. My family live in the Tuscan mountains and it is very normal to see fried polenta and hearty bean soup on the menus there. In Palermo, Sicily, where I have been living for the past couple of months, seafood is much more common (especially sword fish), and Palermo street food often consists of a lot of offal. In Catania, East Sicily, you will find horse meat on the menu of pretty much every restaurant, and of course the speciality in Naples is pizza.

If you're a bit of a foodie traveller like me then it is worth doing a bit of research into regional Italian cuisine while planning your trip to Italy to avoid any nasty surprises (although when it comes to Italian cuisine, I'm not sure that there are any nasty surprises!).



21. Never put parmesan on fish!


When I ordered spaghetti allo scoglio one day, it was explained to me in no uncertain terms that I would not be putting parmesan cheese on it! The thought of putting cheese on my food had never even crossed my mind, but my dinner partner was very eager to make sure that I know of the huge food taboo that is putting parmesan cheese on seafood!

Parmesan and seafood just don't go together, and you will horrify Italians if they see you doing it. You have been warned.



22. Coperto


Ah, that funny little word that I said I'd come back to earlier. Many tourists feel as though they have been scammed when encountering their first coperto, but actually, the coperto, or table fee, is standard practice in Italy.

A coperto is a per person table fee that is anywhere from 1 EU all the way up to 5 EU in the most expensive tourist cities. Here in Sicily the coperto is usually 1.50 EU per person, and the cost of the coperto should be clearly stated on the menu.

The origins of the coperto are actually really interesting, and hark all the way back to the Middle Ages! During this time, many people used to stop at inns, but as a way of saving money, they would bring their own food from home to eat. The innkeepers, needing to make money but unable to sell food, begun to charge patrons for the place they occupied (posto coperto) and the cutlery and plates they used.

These days, you can think of the coperto as a charge that covers the plate, cutlery and tablecloth that you use, service, and the bread basket that is served with your meal. The coperto can be seen as an alternative to tipping (which may confuse my American readers!).

The reason why many think that the coperto is a tourist trap is that, if four people order a simple espresso in a touristy place where the coperto could be as much as 5 EU per person, they are often shocked to see the extra 20 EU added to their bill. Even in cheaper cities where the coperto is 1 EU, it still doubles the price of an espresso and so it can seem excessive if you only want a quick caffeine hit! The solution to this is to stand and drink your coffee at the bar like Italians do, and only sit at a table if you're planning on ordering a few drinks/eating.



23. Tipping in Italy


While people will never turn down a tip in Italy, tipping in restaurants isn't a hugely common thing like it is in other countries, especially if a coperto has already been added to the bill.

Most people will just round the bill up or throw down a couple of euros if they want to leave a tip rather than working out a percentage of the total bill. A good rule of thumb if you're confused and there has been no coperto added is to leave 1 EU for each person eating (nothing close to the 25% that some Americans are accustomed to leaving!).

You are not expected to tip taxi drivers.



24. Paying first?!


There are some sandwich shops/patisseries where you are expected to go to a cashier first, tell them what you want, pay, collect a receipt, and then give the receipt to the person stood behind the food counter and collect your food.

Whether you pay first or after is something that Italians just seem to know instinctively, but as a Brit, all I can do is tell you do be mindful of this when going into a new place and just try and spot what other people are doing!

There is one very confusing place I used to go to in Catania that seemed to change the way it worked daily and I was always getting told off for doing the wrong one!



25. Aperitivo!


Aperitivo may well be my favourite thing about Italy, and if I can stop my mouth watering for a second, I will explain why.

Italians tend to eat late in the evening (with most restaurants not even opening until 8pm) and so something that they do in the late afternoon/early evening is to enjoy an aperitivo to whet their appetites and tide them over until it is time to eat.

Aperitivo varies greatly depending on where you are in Italy, but here in Palermo there are two main ways of enjoying an aperitivo.

One way is going to a restaurant that has an aperitivo buffet, whereby all of the food (couscous, caponata, meatballs and more) are laid out, and all you have to do to enjoy the buffet is purchase a drink and you are then allowed to help yourself to the food on offer.

Slightly fancier places offer a set aperitivo for 10-12 EU, where you order a cocktail/glass of wine (THE aperitivo drink is Aperol Spritz but I am not a fan – I know, I know) and it comes with a platter of cold meats, cheeses, bruschetta, pasta and local Sicilian goodies such as sfincione.

Depending on the size of the aperitivo, sometimes it can replace your evening meal entirely!

Other establishments will just throw a few peanuts or crisps in with your drink so it is definitely worth checking out the aperitivo that a place offers if you are going for a drink in the early evening!



26. What opening times?!


This doesn't just apply to restaurants but restaurants are definitely included. Oftentimes, restaurants will inexplicably close for the day with no reason as to why, or they will open later or earlier than advertised.

Many restaurants do not update their opening hours on Google Maps (or have websites of their own), and many are closed on Mondays.

Now, this may be a Palermo thing (this is really typical Palermo) but it wouldn't surprise me if it was nationwide.



Transport in Italy


27. Buying bus tickets


Seems a pretty simple thing to do right? Well, not in Italy. In Italy you don't buy your bus ticket actually on the bus. That would be too easy. Instead you have to go to a tobacco shop (tabacchi). Why? Don't ask me. It's just the way it is.

You also must remember to validate your ticket as soon as you get on the bus to avoid being fined in the case of a random inspection. This sometimes involves wrestling your way through massive crowds, elbowing old women and trampling on children. Or maybe that's just a Sicily thing.



28. Always look before crossing. And then look again.


On my way to the cafe in which I currently sit writing about crazy Italian drivers, I had to cross the street. I crossed where there were traffic lights, little green and red men, and distinctive zebra markings on the road.

I waited for the traffic light to turn red, the green man to appear, and my fellow pedestrians to begin walking. When I was halfway across the road, a car zoomed right through the red light, almost taking out the lot of us.

This is not unusual in Palermo.

Even if you're using a zebra crossing (that's a crosswalk for all you Americans), Italian drivers do not want to stop for you. You can't just see a pedestrian crossing and walk out into the street because you will get hit, and the driver will probably get out and start yelling at you for being in the way. I want to say it's just a Palermo thing but I think it's probably an Italian thing.

I have crossed streets in Marrakech and Hanoi, which are known to be insane, but never have I had as many near misses as I have in Italy.

You have been warned.



29. Buses run on their own mysterious schedule.


So just because the timetables exist doesn't actually mean that bus drivers intend on sticking to them. Just the other week I was waiting to take a bus to the beach. The bus arrived, the driver kicked everybody off, disembarked himself and just…walked away. Myself and another 50 or so confused beachgoers waited for 45 minutes for him to return despite the buses being scheduled to leave every 20 minutes (and of course, when he did return there was no explanation).

Another infuriating 'quirk' of Italian buses is that the next time I tried to take a bus, the bus stop had moved, but when I found the street that it had apparently moved to, there was no signage indicating where the new bus stop would be. Apparently you're just supposed to know these things.



30. Italian drivers are CRAZY.


So, if the buses are so bad, it's better to just rent a car right?

Hahahahahahahahahahahahahaha.

No.

Italian drivers are some of the most erratic I've ever seen (comparable only with Albanians and Moroccans, neither of whom are known for their impeccable driving skills).

I have feared for my life so many times here in Italy (pretty much every time I get in a car with an Italian), and you don't just have to take my word for it. Laura over at My Corner Of Italy says 'I personally also saw people driving like crazy in Italy and, past the border with Austria, drive perfectly, respecting the rules, never honking, etc. Once in Italy again, they get back to the old habit.'

It's just an Italian thing, I guess.



31. And yet, despite everything, Italy is one of the greatest countries in the world!


I've spent 5 months in this crazy country, from the mountains of Trentino and Tuscany to the insanity that is Naples, the beauty of Matera and now this strange little paradise that is Sicily. Italy is at once antagonising, infuriating, frustrating and yet beautiful for precisely those reasons.

Italy is so much more than the colosseum or the leaning tower. It is weird and wonderful and nonsensical, and even if you do get judged for having a cappuccino at the wrong time, or fail to see the logic in buying a bus ticket from a tobacconist, it all inevitably comes together somehow, and I wouldn't change it for the world.

Lastly, I want to know, have you ever been to Italy? Which thing on this list were you the most unprepared for? Let me know in the comments section below, I am dying to hear your stories!


If you liked this article and would like to support my work, please click the button above to donate a couple of bucks and buy me a coffee. The ad revenue that I receive on this website is minimal, so support from my readers enables me to keep creating content that you (hopefully!) love to read.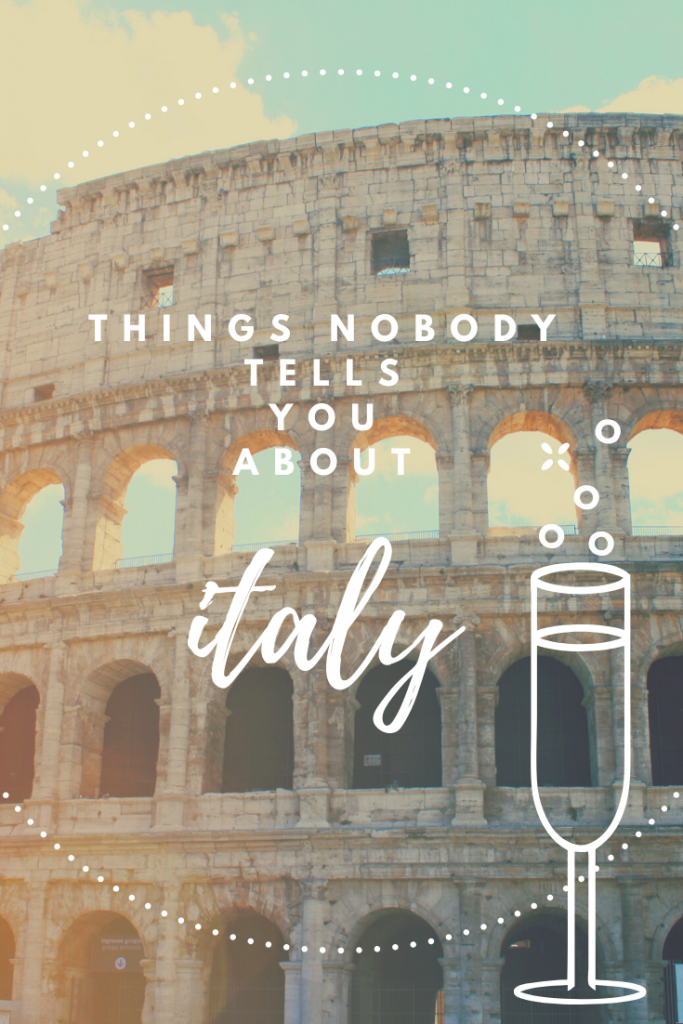 Disclaimer: Travelling Jezebel uses affiliate links. If you make a purchase on a recommended site, I may make a small commission at no extra cost to you.