I have been fortunate enough to visit Catania Italy 4 times, spending over 2 weeks in this Baroque paradise.

I found that not only is Catania an absolutely charming city, but there are so many things to do in Catania that I am surprised it doesn't attract WAY more tourists!

This will come as a surprise to absolutely no-one, but hordes of camera-clutching, map-wielding tour groups are not my jam, and so if you're like me and you're on the hunt for a true slice of Sicilian charm without contributing to the negative effects of overtourism then look no further because Catania Italy has you covered (sidenote: if you find yourself in Southern Italy then definitely check out Puglia!).

For this post, I decided to put together a list of the best things to do in Catania so that you can truly experience the best that Catania Italy has to offer – just make sure that you stop off for a slice of cake or a refreshing glass of Aperol Spritz every hour or so to experience the true Sicilian dolce vita!



The 18 Best Things to Do in Catania, Italy


1. Visit the Cathedral of Saint Agatha


One thing that you cannot miss on a trip to Catania Italy is a visit to the Cathedral of Saint Agatha, or the Basilica Cattedrale Sant'Agata. Construction on the Cathedral of Saint Agatha begun between 1086 and 1090, not long after Catania was conquered by the Normans, and it is dedicated to Saint Agatha, a Christian who died a martyr's death in the year 251 after she refused the sexual advances of a Roman prefect. According to tradition, the cathedral actually stands on the very spot where Saint Agatha was tortured, and her life is illustrated within the church walls.

Also inside the Cathedral of Saint Agatha you will find the tomb of the famous opera composer Vincenzo Bellini (who was born in Catania) as well as tombs of Aragonese Kings of Sicily.

The Cathedral of Saint Agatha Catania is free to enter and is located on Piazza del Duomo.



2. Enjoy the View from Chiesa della Badia di Sant'Agata


Just behind the cathedral is the Badia di Sant'Agata, or the convent church of Saint Agatha. Built between 1735 and 1767, it is the principal work of Giovanni Battista Vaccarini, and from its huge octagonal dome you can see sweeping panoramic views over the city of Catania.

The ticket to go up to the dome costs 4 EUR. Chiesa della Badia di Sant'Agata is located on Via Vittorio Emanuele II 182.


3. Visit Catania Fish Market!


It may seem like an odd tourist attraction but Catania's fish market, La Pescheria, is famous all over Sicily! An authentic market in the truest sense of the word, be prepared to wade through sea water and blood as you take in the decapitated swordfish, live lobsters, buckets of sardines and more.

Just next to the market is Scirocco Sicilian Fish Lab, where you can get cones of hot fried seafood for just a few euros and watch the hustle and bustle of the market around you.

Catania fish market is on every morning except Sundays.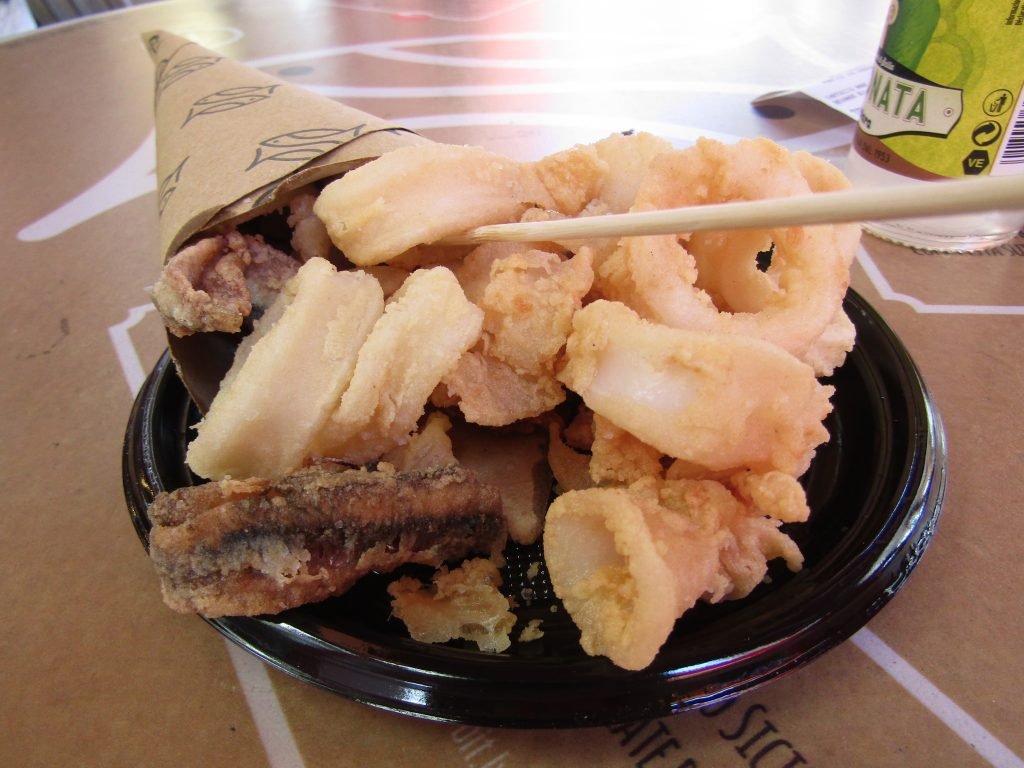 4. See the Roman Theatres!


By far one of the best things to do in Catania for history buffs is to check out all of the Roman ruins around the city centre.

From the sunken 2nd century BC Roman Amphitheatre on Piazza Stesicoro which was built with lava and covered in marble to the Teatro Romano, (Roman Theatre) and The Odeon on via Vittorio Emanuele, the former of which could seat 7000 people and the latter of which was used for concerts and dances, Catania is a great place to learn about ancient history.



5. Eat Saint Agatha's Sweets


The minne di Sant'Agata (Saint Agatha's breasts) or Cassatella di Sant'Agata are very popular cakes in Catania.

Filled with sweet ricotta cheese, dark chocolate and candied fruits and decorated with white icing and a single cherry, these cakes are intended to resemble breasts as a dedication to Saint Agatha, who was tortured by having her breasts cut off with pincers.

Now while I'm personally not sure that I would want to be remembered in this way if something like that were to happen to me, these cakes are nonetheless a staple of Sicilian cuisine and should not be missed on any trip to Catania!



6. Visit Taormina


While not technically in Catania, Taormina is just a stone's throw away and is one of several excellent day trips from Catania that you can take! Taormina is a high-end resort town perched on the edge of a mountain and with jaw-dropping views, an abundance of gift shops, antique stores and coffee shops, not to mention a HUGE Ancient Greek Theatre, it is definitely one for your Sicily bucket list!

There are plenty of direct buses and trains from Catania to Taormina and the journey takes between 50 and 70 minutes. If you'd prefer to see Taormina through the eyes of a local, you can take a private tour there such as this one, which includes Taormina, Castelmola and Savoca!

I wrote a more comprehensive post all about Taormina here if you care to check it out!



7. Gorge on Yummy Sicilian Cuisine


Forget pizza – Sicilian cuisine is about so much more than that!

Vegetarians will love the healthy delights of caponata (fried eggplant with vinegar and capers in a sweet and sour sauce) or Catania-born pasta alla Norma (pasta with sautéed eggplant, tossed with basil and fresh tomato and topped with ricotta cheese), while meat eaters will go crazy for the horse burgers, arancini (fried rice balls stuffed with anything from ragu to prosciutto and mozzarella), and seafood lovers will be in their element with the abundance of both fried and fresh calamari, swordfish, red tuna, anchovies, sardines, oysters and more.

If you have a sweet tooth then you absolutely cannot miss trying cannoli, sweet tubes filled with ricotta and sprinkled with pistachio and/or candied fruits.

Catania food tours that I recommend are:




8. Visit the Botanical Gardens


One of the best free things to do in Catania is to pay a visit to the Botanical Gardens of the University of Catania.

Established in the nineteenth century, the Botanical Gardens of Catania have an abundance of Sicilian wild flora, palms (50 species), succulents (2000 species) and more.

Covering an area of 16,000 square metres, the Botanical Gardens are a great place to enjoy a bit of peace and quiet and hide in the shade from the unforgiving Sicilian sun.

Another public garden in Catania worth paying a visit to is Giardini Bellini which is famous for its flower beds and has a beautiful fountain.

The Botanical Gardens of Catania can be found on via Etnea, as can Giardini Bellini.



9. Climb Mount Etna


As with Taormina, it would be more accurate to include Mount Etna on a 'day trips from Catania' post, BUT, here we are and I don't THINK that any of you are going to stop reading on a technicality, right?

With a height of around 3300 metres, Mount Etna is the largest active volcano in all of Europe (and one of the most active in the world!), and it really is a sight to behold. Affectionately named Mamma Etna due to the fact that it represents fertility (despite destroying Catania several times!), you can access Mount Etna by car, cable car or on foot.

I recommend exploring Mount Etna as part of a guided tour such as this one, which includes a cable car and a jeep right up to the summit (as well as a 3.5 hour hike!).



10. Wander down via dei Crociferi


Via dei Crociferi is where you will not only find a tonne of impressive Baroque architecture but also four beautiful churches – the Church of St. Francesco Borgia, the church of San Benedetto, the Church of St. Francis of Assisi and the Church of Santa Giuliana.

Those who have spent a lot of time travelling around Europe may complain that they are tired of going inside church after church after church, but the churches in Catania are so impressive that they are definitely worth checking out, especially as they are quiet, fully functioning places of worship as opposed to having been turned into tourist traps with expensive entrance fees and no actual ceremonies ever occurring.



11. Visit the Benedictine Monastery


Just a ten minute walk from Piazza del Duomo is the former Benedictine Monastery, a UNESCO World Heritage Site and one of the biggest of its kind in Europe.

The Monastery of San Nicolò l'Arena was begun in 1500, and has continued until the present day, meaning that it has incorporated the styles of several different eras.

In 1977 the Municipality donated the Monastery to the University of Catania, and it has since been used for the Faculty of Humanities.

The Monastery is open every day for visitors from 9:00am until 5:00pm.



12. Go to the Beach!


Just a 30 minute walk from the centre of Catania is the beach!

You can either opt for the small 'free beach' at the very bottom (which isn't super nice but y'know – it's free) or pay the fee to access the private beach clubs that dominate most of the coast.

The entrance fees are around €5 (not including sun lounger), and entitle you to a full day on the beautiful white sands, use of the showers, access to the bars, restaurants and shops, and on-site bathrooms.

I really don't like the lido system in Italy (private beach clubs) but hey, it is what it is.



13. Aperitivo!


One of the most simple yet essential things to do in Catania Italy is to enjoy an aperitivo on Piazza del Duomo.

If you order a cocktail or glass of wine (if you want to make like the Italians then be sure to order an Aperol or Campari Spritz) in the late afternoon/early evening, your drink will be brought out with a small platter of goodies to munch on as you watch the world go by.

Not only is Piazza del Duomo a great little sun trap, but it is also home to the Cathedral of Saint Agatha (as mentioned earlier) and also the famous Fontana dell'Elefante, made out of black lava by Giovanni Battista Vaccarini and depicting an elephant supporting a small Egyptian obelisk, inspired by Bernini's elephant obelisk in Rome.

You can read my full guide to Italian aperitivo and apericena here.



14. Visit the Village of Castelmola


One of the other great day trips from Catania is a trip to the village of Castelmola.

A trip to the aforementioned Taormina can easily include a couple of hours in Castelmola as they are just a 15 minute bus journey apart.

Castelmola is not only one of the most beautiful villages in Sicily, but it is also the perfect place to escape the crowds (there are only 1100 inhabitants of Castelmola), enjoy some of the signature almond wine, and take a trip to the penis-themed cafe (yes, you read that right – a penis-themed cafe).

You can read more about my trip to Castelmola here!



15. Freshen Up!


Walking around all day in the Sicilian heat is no small feat, so be sure to freshen up with one of the two staple drinks of Catania – seltz or granita.

Found in many kiosks all over Catania for around 1 EUR, seltz is a mixture of freshly squeezed lemon, cold sparkling water and a dash of salt. It sounds odd but it is actually very refreshing and very common among Catania locals, and is one of the simplest yet best things to do in Catania.

Granita is something that Sicilians will claim was invented by them, but if you ask me, it's basically just the same as a slushy (I think I just lost all of my Sicilian friends with that comparison).

Granita is shaved ice flavoured with lemon, mint or whatever else you may desire (but traditionally with lemon).

In the summer, it's very common to order a coffee-flavoured granita for breakfast and dip your brioche into it! You can buy granita from every bar, café and street vendor for just 1 or 2 euros.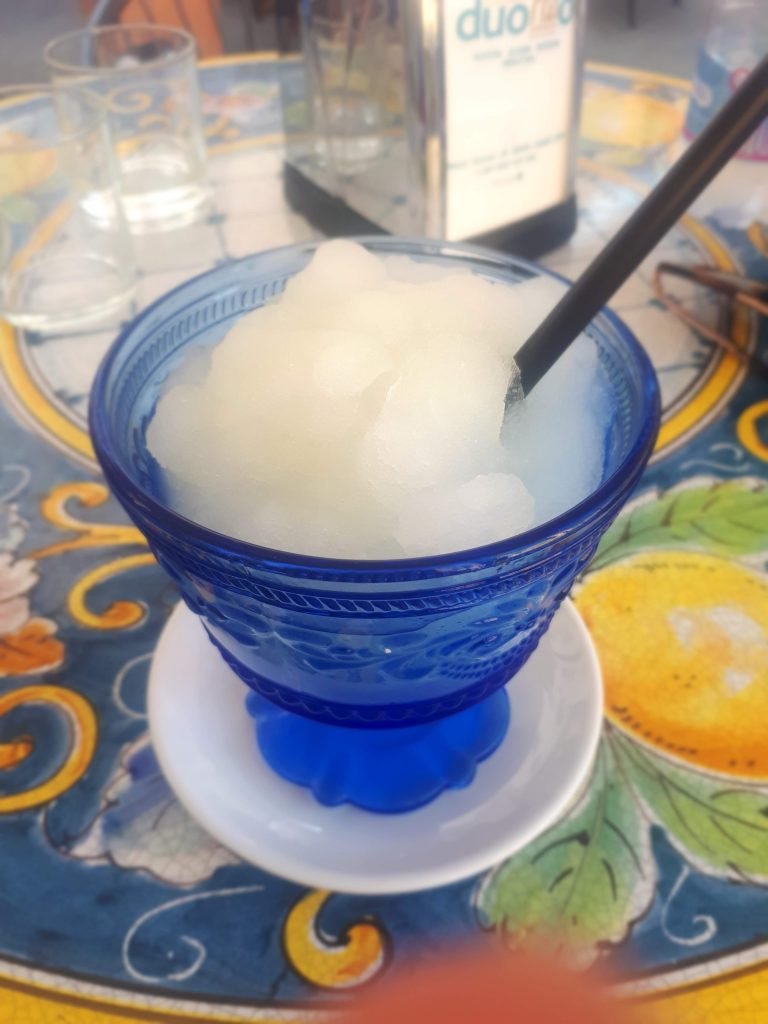 16. Castello Ursino and the Civic Museum


Castello Ursino is a castle that was made out of lava stone way back in the year 1239.

There are not many Norman buildings left in Catania so for any architecture nerds out there, Castello Ursino is pretty damn special, but it is also home to a civic museum, Museo Civico, which displays many Hellenistic and Roman sculptures, as well as various other finds from the surrounding areas.

Highlights of Museo Civico include the torso of a Roman emperor and a Hellenistic relief of Polyphemus being blinded by Odysseus.

There are also collections of rare weapons and sculptures dating all the way back from the Middle Ages, right up until the 18th century.

Castello Ursino is located at Piazza Federico II di Svevia. It is open every day from 9:00am until 7:00pm and admission is 10 EUR.



17. Wine Tasting in Catania Italy


After all of that exploration, it's time for some alcohol – and come on, you didn't really think I was going to write more than 2000 words without mentioning booze, right?

As luck would have it, the volcanic soils of Mount Etna have created some of the best wines in the world, and in the valley below Etna there are dozens of wineries offering tours and tastings, which you can do either as a standalone trip or combine wine tasting in Catania with a trip to Mount Etna!

If you're unsure of where to go then why not check out this tour that includes 3 of the best Etna wineries and a tasting at each one!

You can read about my experience wine tasting in Catania here.


18. Discover Small Town Sicily in Militello


If you want to get truly off the beaten path in Sicily then a visit to Militello is a must!

Located just 35km away from Catania, Militello is the least touristy place I've visited in all of Italy, and so for those wanting to discover the real Sicily, Militello is the perfect day trip for you.

In Militello, you won't find souvenir shops or tourist bars, but you will find over 20 churches, monasteries and palaces, as well as stunning late Baroque architecture, fresh fruit carts everywhere, and one of the largest nativity scenes in all of Italy!



Things to know before visiting Catania Italy


Catania is located on the east coast of Sicily at the base of Etna, Europe's biggest volcano.

Catania is Sicily's second largest city with almost 1 million residents (the largest being Palermo, Sicily's capital).

Catania Airport (known as Catania Fontanarossa Airport) is the largest airport in Sicily and there are many direct flights between Catania and the UK. Flight time is around 3.5 hours.

You can reach Catania from mainland Italy by bus. My go-to bus travel in Europe is always FlixBus. Flixbus is the most extensive bus network worldwide and all Flix buses have Wi-Fi, extra legroom, charging ports and the ability to modify your booking just 15 minutes before departure! Click here to book your Flixbus to Catania.

Just like the rest of Italy, Catania uses the EURO. Most places accept card but as with anywhere, it is a good idea to carry some cash with you just in case.

UBER does not exist in Catania (or all of Sicily) and taxis can be very expensive. However, the centre of Catania is extremely easy to navigate on foot and there is also a bus from Catania Airport to the centre of Catania. The name of it is AMT Alibus and it runs every 25 minutes from 4.40am to midnight, costs €4 and has a journey time of 20 minutes.

Although parts of Italy can be very expensive, Catania is not super pricey and it is definitely possible to visit Catania Italy on a backpacker's budget. If you're interested on how to visit Catania on the cheap, I put together a budget guide to Catania here.

The weather in Catania is nice all year round but the best time to visit Catania is definitely spring/early summer or late September/the month of October. This way you still get to experience great weather but with less crowds and cheaper flights and accommodation.

Catania is a very safe city. I wrote in more detail about safety in Sicily here, but let it suffice to say that Sicily is a lot safer than most of the popular tourist destinations in Italy (Milan is the most dangerous Italian province!).



Where to Stay in Catania Italy


Hostels in Catania


The two hostels that I recommend in Catania are The Yard Hostel and Ostello degli Elefanti.

I haven't personally stayed at The Yard, but the reviews are fantastic, and I'll definitely be checking this place out when I return to Catania. The Yard has a free breakfast (with freshly baked pies and fried eggs!), super cool common areas and a really great looking bar. I'm getting FOMO just looking at the pictures!



The other hostel that I recommend in Catania is Ostello degli Elefanti, which was where I stayed.

Not only is it smack bang in the middle of Catania with less than a 50m walk to the main square, but the free breakfast here is delicious and includes croissants, homemade carrot cake, crusty bread with a variety of spreads, individually wrapped biscuits and fresh fruit and cereal.

In terms of typical Italian breakfasts, it doesn't get much better than this, and there is also a proper coffee machine which makes a mean cappuccino!

On the roof of Ostello degli Elefanti is a stunning rooftop bar offering stunning panoramic views of Catania, and is definitely an Insta-worthy place to enjoy a glass of Prosecco or three 😉


Hotels in Catania


Best budget hotel in Catania – Umberto House Catania

Umberto House Catania is located right in the centre of town and has simple but comfortable rooms, an Italian breakfast included in the price, and facilities such as a 24-hour front desk, currency exchange and car hire service




Best mid-range hotel in Catania – Manganelli Palace

Manganelli Palace offers elegant Baroque-style accommodation with hand-painted frescoes on the ceilings and refined furniture. A continental buffet is served daily for breakfast, and the location is in the city centre, just steps away from the cathedral.



Best luxury hotel in Catania – Duomo Suites & Spa

Duomo Suits & Spa has everything you could possibly want in a hotel. It is centrally located, just 100m away from the cathedral, it has spa and beauty facilities, swanky rooms and a gorgeous roof terrace where you can watch the sunset and enjoy the brilliant Baroque architecture that surrounds you.



Best Things to Do in Catania 2023 | Final Thoughts


So, there we have the best things to do in Catania Italy!

Catania is absolutely full of breathtaking architecture, jaw dropping scenery and fascinating history, but if you ask me, the absolute best way to spend your time in Catania is by getting lost down the side streets, drinking coffee with the locals, munching on all of the wonderful Sicilian cuisine and, of course, sipping Aperol Spritz in the sun! Have you ever been to Catania Italy? Perhaps I missed something off the list? Let me know in the comments below!

Until next time xoxo


If you liked this article and would like to support my work, please click the button above to donate a couple of bucks and buy me a coffee. The ad revenue that I receive on this website is minimal, so support from my readers enables me to keep creating content that you (hopefully!) love to read.

Disclaimer: This page contains affiliate links. If you make a purchase on a recommended site then I may make a small commission at no extra cost to you