For the vast majority of the time that I've travelled, I've only visited countries that are known for being budget friendly. Cambodia, Ukraine, Poland and the Balkans feature heavily on this blog, and that is no accident. As somebody who travels almost full time on a modest income, I have to be strategic when deciding where to visit.

Not only that, but I also feel passionately about promoting lesser visited destinations. The world doesn't need another article about things to do in Rome, Venice, or Florence, and that's a good job because I have no desire to visit those places!

Catania is a place that doesn't get nearly as much tourism as the more well-known cities in Italy, but with its close proximity to the sea, stunning Baroque architecture and delicious Sicilian cuisine (did someone say cannoli?), Catania may well be one of the best places to visit in Italy, especially if, like me, you enjoy getting a little off the beaten track.

However, to my fellow budget backpackers, the idea of travelling to Italy may seem a little daunting. While much more affordable than cities such as Rome, Catania is still more expensive than some of the other European destinations that I've visited, and so I decided to put together a handy guide to visiting Catania on a budget!



You can reach Catania from mainland Italy by using FlixBus. Flixbus is the most extensive bus network worldwide and all Flix buses have Wi-Fi, extra legroom, charging ports and the ability to modify your booking just 15 minutes before departure! Click here to book your Flixbus to Lviv.

If you're planning a trip to Catania, then I strongly recommend buying travel insurance. I NEVER travel without insurance, and I've seen too many others get landed with huge medical bills as a result of not having had insurance, that it's something I'll never neglect to buy. My recommendation for great travel insurance is World Nomads.



Why visit Catania?


On the east coast of Sicily, Catania lies at the base of Europe's biggest volcano, Mount Etna. It is Sicily's second largest city with almost 1 million residents, and is at once an important economic hub as well as a thriving student city. With an abundance of Sicilian Baroque architecture, Catania's downtown area has actually been declared a UNESCO World Heritage Site, and for history lovers, there is also a Roman Amphitheatre right in the city centre!

Not only does Catania boast impressive architecture, but it also has some great markets (its daily fish market is famous in Sicily), a buzzing nightlife, and gorgeous sandy beaches. Catania is also a stone's throw from Taormina, Castelmola, Syracuse and Mount Etna, and so if you don't include Catania on your Sicily itinerary then you are truly doing yourself a disservice!



How to visit Catania Sicily on a budget


Budget accommodation in Catania Sicily


The two hostels that I recommend in Catania Italy are The Yard Hostel and Ostello degli Elefanti.

I haven't personally stayed at The Yard, but the reviews are fantastic, and I'll definitely be checking this place out when I return to Catania. The Yard has a free breakfast (with freshly baked pies and fried eggs!), super cool common areas and a really great looking bar. I'm getting FOMO just looking at the pictures.

To see rates and book your stay at The Yard, just click here.

The other hostel that I recommend in Catania is Ostello degli Elefanti. Not only is it smack bang in the middle of Catania with less than a 50m walk to the main square, but the free breakfast here is delicious and includes croissants, homemade carrot cake, crusty bread with a variety of spreads, individually wrapped biscuits and fresh fruit and cereal. In terms of typical Italian breakfasts, it doesn't get much better than this, and there is also a proper coffee machine which makes a mean cappuccino! 

On the roof of Ostello degli Elefanti is a stunning rooftop bar offering stunning panoramic views of Catania, and is definitely an Insta-worthy place to enjoy a glass of Prosecco or three 😉

To book your stay in Ostello degli Elefanti, just click here.

Another option is Couchsurfing which means that you get to stay with a local for FREE – as long as you don't mind sleeping on a stranger's couch, I think that Couchsurfing is a great way to meet new people whilst also saving money!

Last, but definitely no means least, you could also try house sitting. House sitting enables you to stay in someone's empty home for free, on the condition that you just take care of it (water any plants etc.). You can use TrustedHousesitters to see if there is anything available for your dates!



Cheap Eats in Catania Sicily


Whilst I was in Catania, I really took advantage of the 'tourist menus' offered at lunchtime in most restaurants. Usually, when you hear 'tourist menu,' it is easy to think that you are being ripped off. However, the tourist menus in Catania are more akin to the 'Menu del Dia,' or 'Menu of the Day' in Spain, whereby you get a set menu at a fixed (discounted) price. The food isn't the best food that you'll ever eat, but it makes eating out at local restaurants super affordable and is a great way of enjoying a two-course meal in Catania without breaking the bank.

While in Catania, I sampled the tourist menu at lunchtime twice. The first time I opted for spaghetti with mussels followed by grilled squid with a side salad and Coca Cola, and the second time I got spaghetti marinara followed by a selection of fried seafood, side salad and a glass of wine. Both times my total bill was €15. If you opt for the meat menu rather than the seafood menu then the total bill is only €10 (and that's for two courses, a side dish and a drink!).

If you prefer to grab food on the go, my go-to in Catania was arancini. Arancini are deep fried rice balls with various fillings which can include meat ragu, spinach and mozzarella, pistachios and more. Arancini can be found literally everywhere, they are super filling and they only cost €2 – bargain!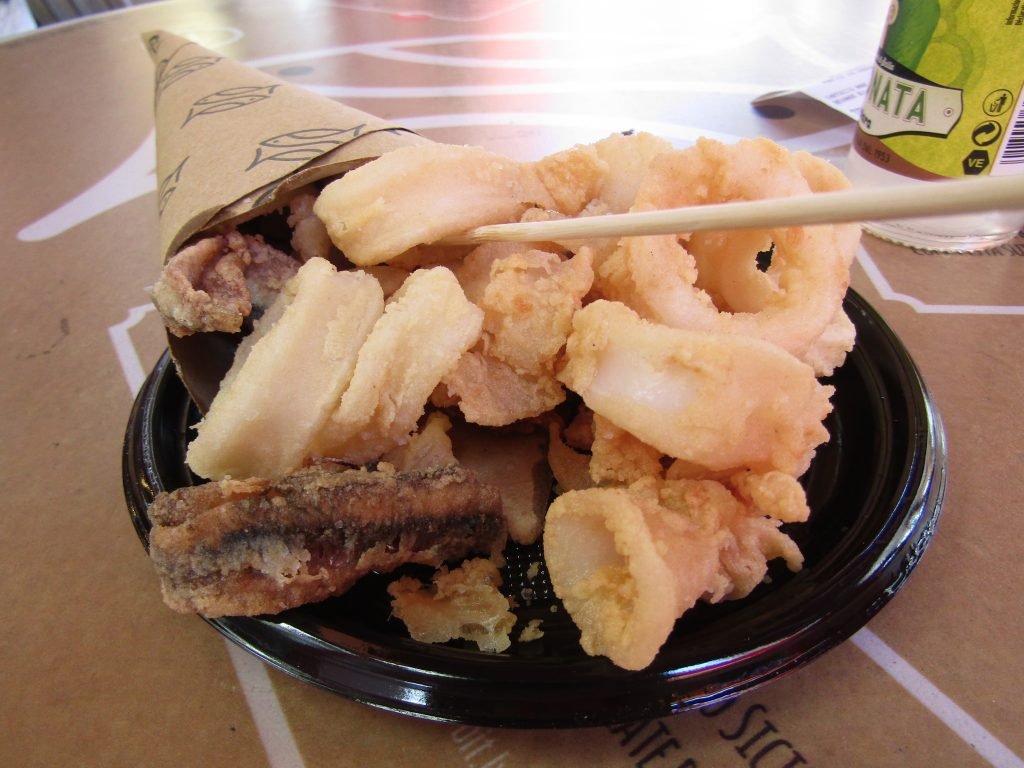 Take advantage of the free attractions in Catania Sicily!


Almost all of the main things to see in Catania are completely free of charge and the best bit is that as the centre of Catania is so small, everything is easily reached on foot! Some things not to miss are the Amphitheatre of Catania, Catania Cathedral, the Monastery of San Nicolò l'Arena, Catania's fish market, and the Botanical gardens.

For a small fee you can also go to the top of the bell tower of Catania Cathedral and enjoy the spectacular views over Catania.



Go to the beach!


A 30 minute walk from the centre of Catania is the beach. Although most of the beach is owned by private beach clubs that charge entrance fees, (this is my least favourite thing about Italian beaches), there is a small section of the beach at the beginning that is free to enter, and while it isn't maintained quite as well as the private beaches, it is still perfectly fine for an afternoon of sunbathing.



Aperitivo!


If you've enjoyed an afternoon arincino and aren't hungry enough for your main evening meal but are in need of a little something, then the perfect solution is aperitivo! If you purchase an aperitif drink (such as Aperol or Campari spritz), then your drink will be served with a selection of nibbles that usually include crisps, nuts, olives, mini arancini and mini pizza breads. Most cafes in Catania Sicily serve aperitivo in the late afternoon/early evening, and it's a great way to enjoy some free nibbles!

The best aperitivo in Catania can be found at Pasticceria Mantegna and Boheme, or for sushi lovers, make sure to have the sushi aperitivo at Oxidiana!



CouchSurfing Hangouts


When I arrived in Catania, one of the first things I did was to open the CouchSurfing app and make myself 'available' on the Hangouts feature. CouchSurfing Hangouts shows you all of the people who are also on the app and wanting to hang out in the area, and from there you can begin messaging people and arranging things.

On my first day I met with a local guy who happened to work as a tour guide – he showed me around the city centre, giving me detailed explanations about everything from the types of cacti in the Botanical gardens to what exactly we were looking at when we arrived at the Roman amphitheatre.

On my second day, I wrote in the app that I wanted to visit the nearby town of Taormina. I intended to find somebody to take the bus with me, but almost immediately a local guy messaged me saying that he would be happy to drive my friend and I there. Within 30 minutes he'd picked us up and he not only took us to Taomina, but also to the hilltop town of Castelmola. We spent the entire day exploring both towns, and in the end, Michele would only accept €5 gas money from us.

CouchSurfing Hangouts was not only a great way for me to explore the towns around Catania without paying for an expensive tour, but it also enabled me to meet some really cool local guys who just like to show tourists around to improve their English and introduce foreigners to their city.

(Of course, as a solo female traveller my inbox was inundated with young Sicilian men wanting to spend one on one time with me. Many people use CouchSurfing Hangouts as a dating app, which can be kind of annoying. However, as long as you're clear about your intentions to only meet as friends, you should be fine. Both of the guys that I met were super nice and didn't try anything!)



And here concludes my list of tips on how to visit Catania Sicily on a budget. Catania isn't the cheapest place that I've been to but if you follow my advice then it's definitely possible to visit Catania on a backpacker's budget and have a great time!

If you liked this article then please pin it so that others can find it too!

xoxo


If you liked this article and would like to support my work, please click the button above to donate a couple of bucks and buy me a coffee. The ad revenue that I receive on this website is minimal, so support from my readers enables me to keep creating content that you (hopefully!) love to read.
Disclaimer: Travelling Jezebel uses affiliate links. This means that if you make a purchase on a site that I am partnered with, I may make a small commission at no extra cost to you.