If you like history or cake then you'll like Militello.

If you like history and cake, then you'll love Militello, for these are the two things that the charming town of Militello in Val di Catania is famous for, proud of, and in abundance of.

You'd be forgiven for never having heard of Militello.

I certainly hadn't prior to this year, and this is after spending over 2 months in Sicily!

You see, travelling in Sicily is all about stumbling on hidden gems that often require a local's knowledge to find, and this is exactly how I found myself exploring the small town of Militello in Val di Catania, Sicily, earlier this year.

I was in the process of moving to Palermo (a process that was halted by the coronavirus), and had taken the trip across the island to Catania, where I had planned to go to the TBEX travel conference (which was also ultimately cancelled due to the pandemic).

While in Catania, I met with the lovely Grazia, Enzo and Matteo from the Associazione Regionale Guide Sicilia, who showed me and a bunch of other travel bloggers around the charming small town of Militello.



Militello in Val di Catania | Sicily Off the Beaten Path


Where is Militello?


Militello in Val di Catania is a municipality in the city of Catania, on the island of Sicily, Italy.

Along with 7 other towns (Caltagirone, Catania, Modica, Noto, Palazzalo Acreide and Ragusa) that form the Val di Noto region, the whole town of Militello is on the UNESCO World Heritage List as it represents 'the culmination and final flowering of Baroque art in Europe.'

Militello is located 35km southwest from the city of Catania, and in between the provinces of Catania, Siracusa and Ragusa.

It has a population of just over 7000 and has been inhabited since ancient times, with the first mention of Militello being all the way back in 1000 AD!

The name 'Militello' actually comes from the Latin 'Militellus' or 'Militum Tellus,' which means 'land of soldiers,' owing to some Roman soldiers that sought refuge here during the outbreak of a malaria epidemic in the swamp of Lentini!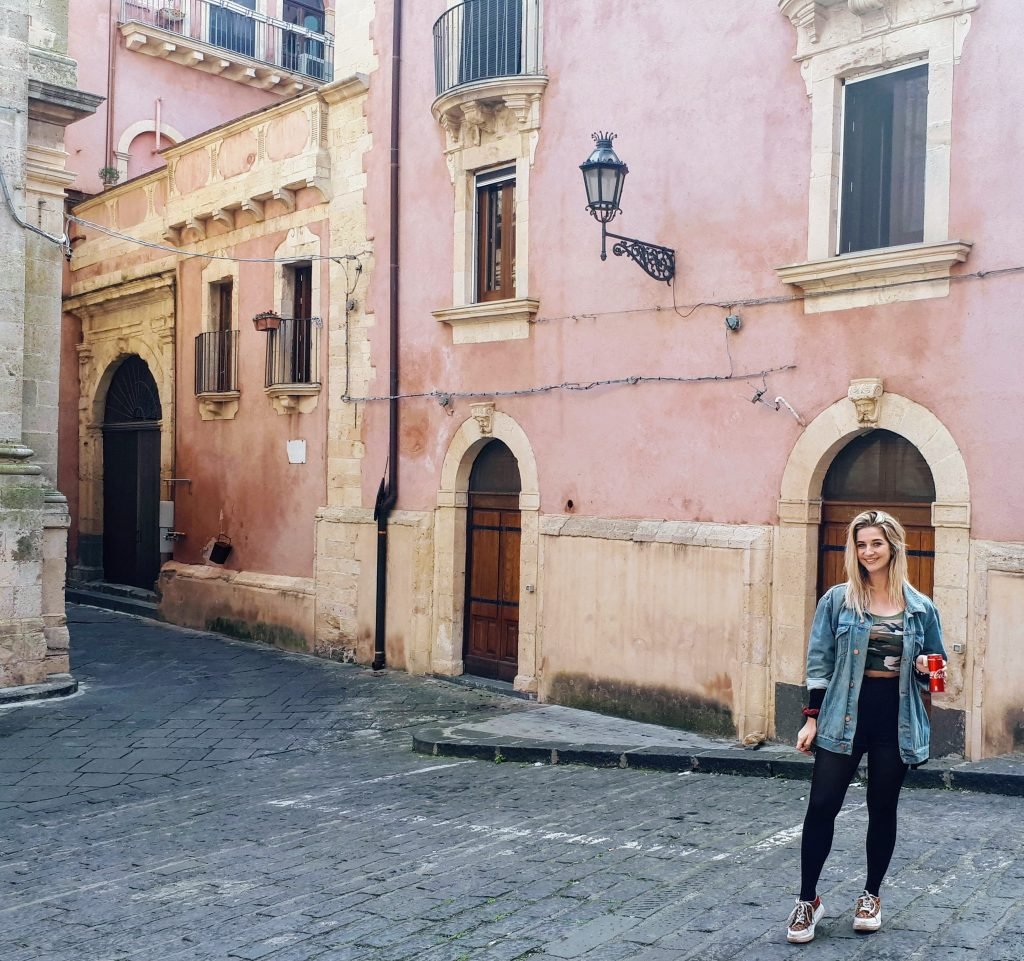 'The final flowering of Baroque art in Europe'


Our guide for the day, Grazia, was a self-professed Baroque nerd, having studied it in-depth at university, and so she delighted in telling us all about Militello's status as a Baroque town.

Most of the architecture in Militello is actually in the late Baroque style, also known as Rococo. Rococo is more flamboyant than earlier versions of Baroque architecture, comprising of ornate, asymmetrical designs, pastel colours and a focus on using curves rather than hard lines.

While traditional Baroque was very serious, Rococo was more secular and playful, with buildings being heavily decorated with carvings of flowers, shells, and other naturalistic forms, with pale colours and large mirrors giving a sense of open space.

However, just because Rococo does not take itself so seriously, the buildings are no less awe-inspiring than their earlier counterparts, and despite an earthquake in 1693 destroying most of the town, the palaces and churches in Militello have been rebuilt and remain painfully elegant, albeit mostly without bell towers or many floors (in case of another earthquake).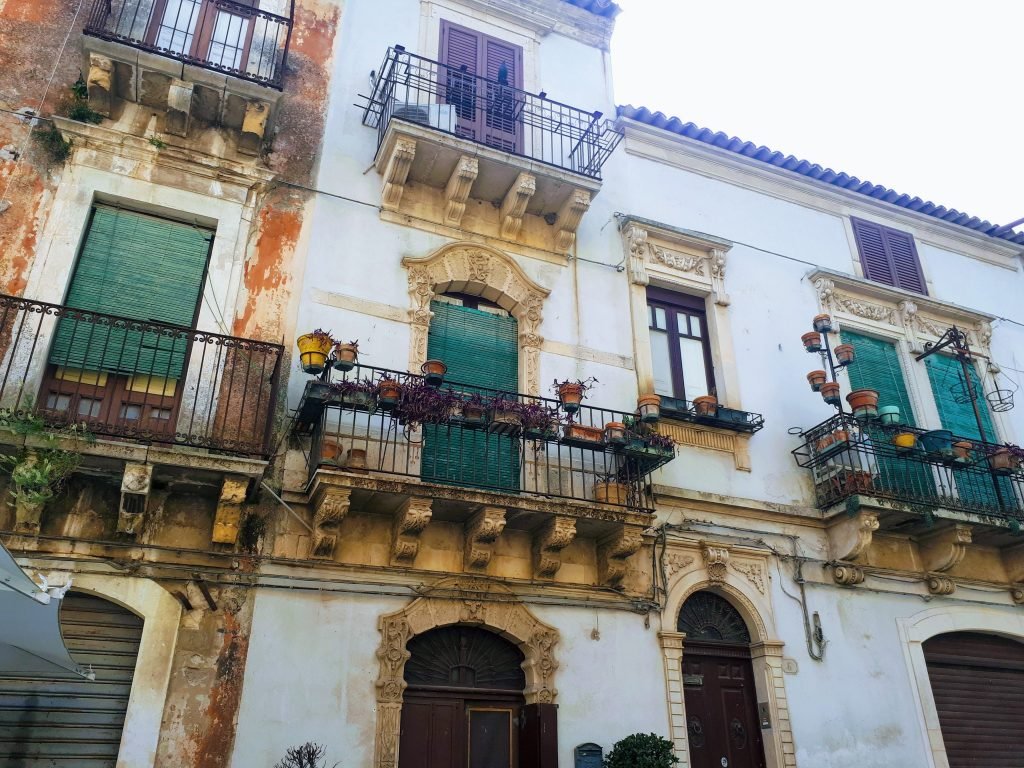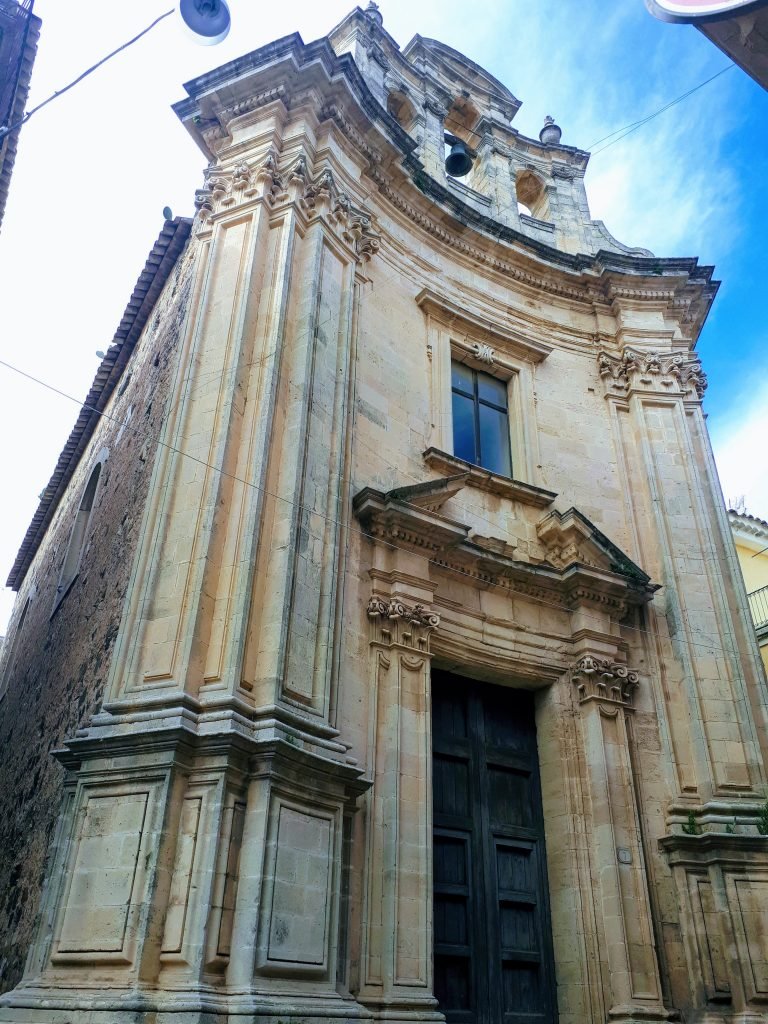 Feminist churches, ancient crypts and sacred jewels…


If this heading alone doesn't pique your interest then I don't know what will.

Militello has dozens of palaces and over 20 churches, some of which have hidden treasures within, such as the Chiesa Madre San Nicolò – SS. Salvatore.

Construction of this church started in 1722 and it was not open to the public until 20 years later in 1742!

The Chiesa Madre San Nicolò is a Baroque masterpiece, with a large bell tower and imposing facade.

Nestled inside its walls are beautiful paintings and stuccos belonging to Serpotta's School, alongside other valuable works such as a statue of Bagnasco from Palermo.

However, the real adventures lie underground – in the vast crypts underneath the city is the Museum of Sacred Art, which has been open since 1987.

As you venture deeper into the crypts, you can admire numerous examples of sacred clothing with yellow silk and gold embroidery, silver goblets from Messina that are examples of the best Baroque art in Sicily, and countless precious jewels, which have been donated by the townspeople of Militello to the Saints that dwell within the crypt, their bones having been preserved until present day.

The crypts are also the final resting place of various Noblemen of Sicily, who lay here without coffins until all that was left of them were bones.

The Museum of Sacred Art also houses every sculpture from every church that was damaged in their earthquake but still managed to survive. As you wander, notice that the Saint Agata statue has no hands, a reminder of what she endured back in 1693.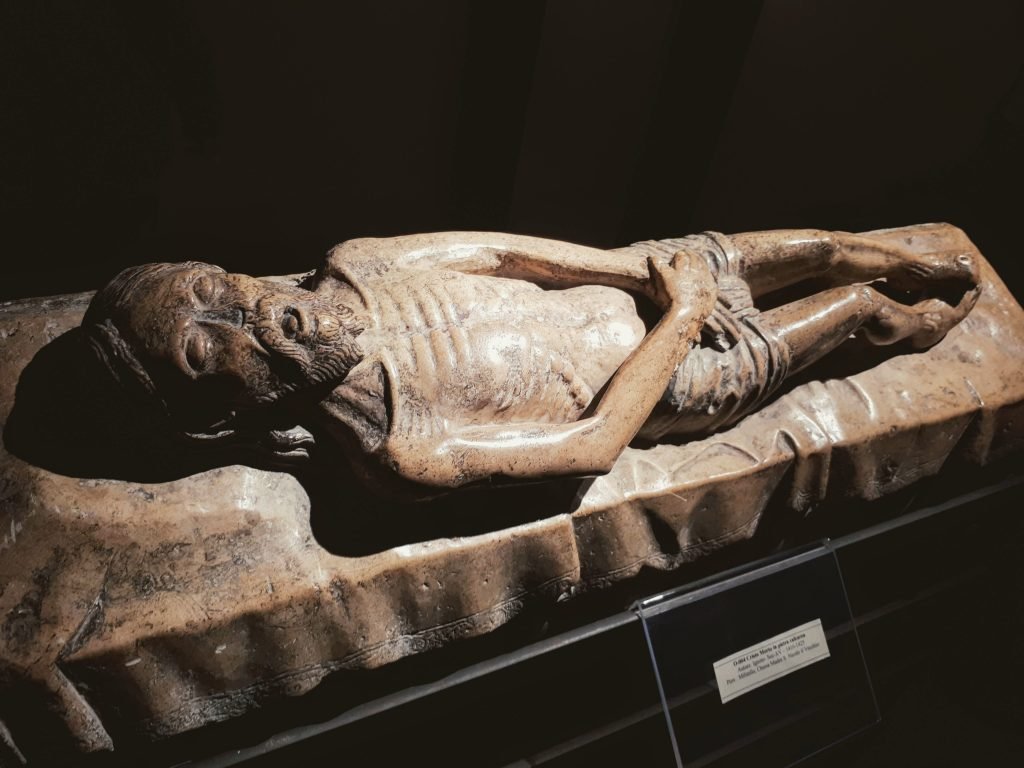 Next on the list of interesting things to do in Militello is pay a visit to the Madonna della Catena Oratory, a 16th century building that survived the earthquake.

This church is dedicated to Sicilian female saints. It is totally Baroque, with every dress on every statue designed in a Baroque style. However, those with a keen eye may notice that there is a little something missing though – the gold from the dresses was removed because it was thought to attract the plague!

Paying close attention is something that you must make a habit of in this church – at first glance, the statue of the Virgin Mary at the front seems no different to any other depiction, but it is only when observed at a closer range that we see a silver chain wrapped around her wrist, tying her to her son, emphasising her role as protector of slaves and prisoners.

This dates back to 1932, when 3 men were unjustly sentenced to death in Palermo. Just as the executioners were sharpening their forks, a huge storm broke out, forcing everybody to flee inside for cover. The men were tied with double chains to the statue of the Madonna, but when the storm did not end, they had to spend the entire night in the church, guarded by the executioners, for their fate to be delivered.

Legend has it that the men fell to their knees, praying to the Virgin, and she spoke to them, saying 'Go freely and do not fear anything: the divine Infant I hold in my arms has already accepted your prayers and granted you life!' and their chains broke, allowing them to sneak past the sleeping guards.

Of course, this miracle has never been forgotten, and Madonna della Catena churches can be found all over Southern Italy and Sicily, their name literally translating to 'Lady of the Chains.'

With most of the gold long gone, the interior of the church is white, giving it an incredible serene and elegant feel. As you look around, notice the 13 stucco statues, each one depicting one of the most revered Virgin Martyrs of Sicily.



The third notable church in Militello, and the last one that I am going to be talking about, is the Santuario di Santa Maria della Stella.

This church is exceptionally grand, sitting at the top of a mighty staircase and boasting huge chandeliers and elegant pillars.

Inside can be found a masterpiece by Andrea della Robbia, a Tuscan artist from Florence who created glazed terracotta sculptures typical of his region, and who produced the Nativity you see today, which is one of only three in Sicily and one of the biggest in the whole of Italy!



Sampling some Sicilian cuisine in Militello in Val di Catania


Remember when I said that if you like cakes then you'll love Militello?

Well, I wasn't joking.

Traditional gastronomy from Militello is all about confectionary, and during my visit, Grazia, Matteo and Enzo took me to sample some at Art Cafe, situated just opposite the City Hall, which is an old Benedictine Monastery and one of the biggest in Sicily!

Almonds and cinnamon are the main ingredients of all sorts of dolce goodness in Militello, giving everything a scrumptious Mediterranean taste that makes you think of Christmas!

As we sipped on Sicilian red wine, Grazia told us all about Mostarda Siciliana, which is a very thick marmalade made from a cooked wine called must. To make it, you use must, corn starch, orange zest, cinnamon, nutmeg, cloves and toasted chopped almonds, sometimes with added pine nuts or raisins.

After being heated and poured into moulds called formelle, granulated sugar is spread onto them before they dry in the Sicilian sunshine.

We tried some, and it didn't disappoint. Paired with the red wine, they tasted incredibly rich and I suddenly felt very festive!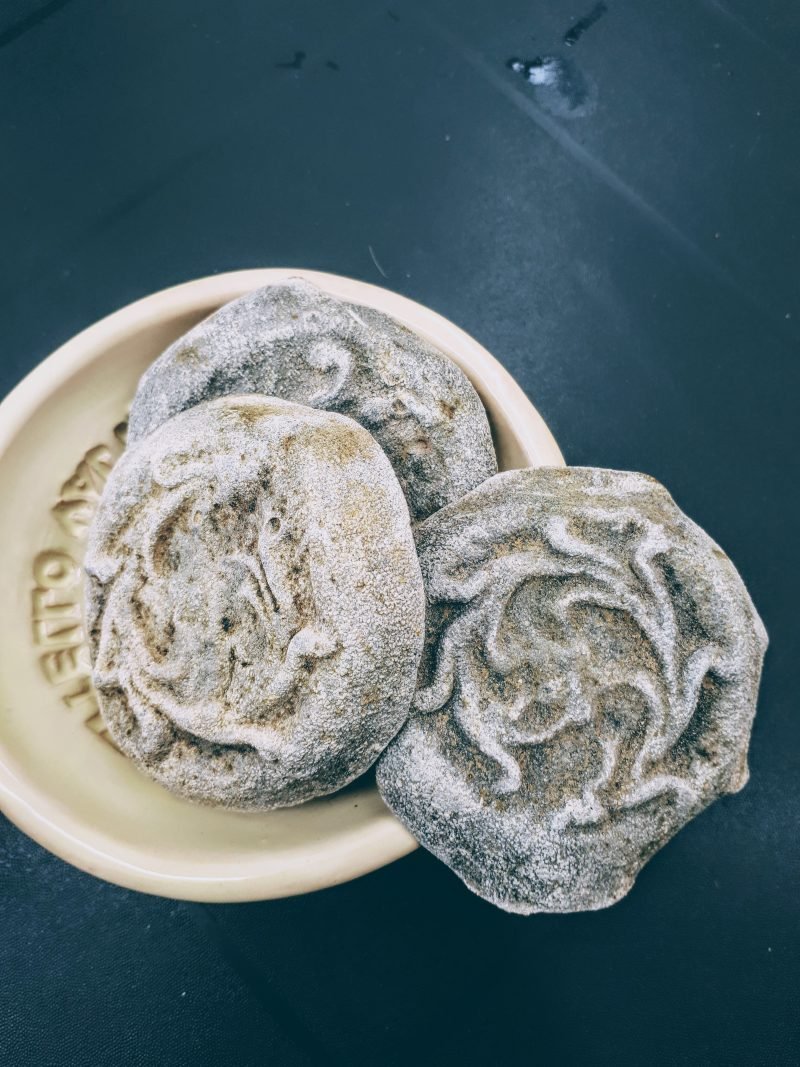 We also tried the Cassatelline di Militello, which are square baskets of puff pastry filled with peeled almonds, fruit jam, chocolate, liqueur, cinnamon and cloves and decorated with white icing.

This recipe is handed down from generation to generation and is one of the most quintessential Militello gastronomical traditions.

As you can see from the pictures, there were many other Sicilian biscuits on offer. I loved how they were such a hodgepodge of different sizes and colours – proper Sicilian grandma style!

Another must-try Militello delight is the famous 'prickly pear mustard,' which is actually not like a mustard at all but rather a dessert. In fact, the people of Militello are so proud of their 'mostarda' that there is a prickly pear festival every year, over the second weekend of October!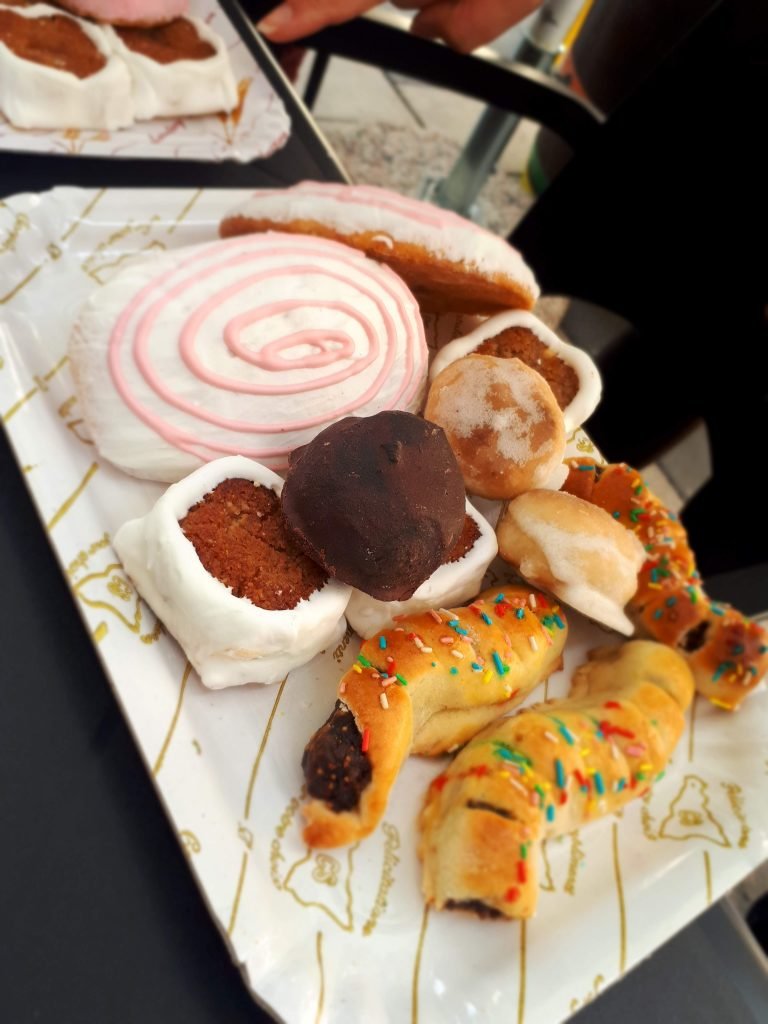 If you're like me and you prefer something a little more savoury, then something you must try while you're in Militello in Val di Catania is a scacciata, a sheet of fragrant bread dough folded, baked and stuffed with anything from wild vegetables to olives, sausages and pretty much anything else you can think of!

Before our confectionary sampling, we enjoyed scacciati with spinach, pork, potato and cheese – mmm!



If you need a little something to freshen you up then be sure to buy a lemon or almond flavour granita – a Sicilian staple of flavoured ice that is shaved and enjoyed alone or with a brioche for dipping!

Last, but by no means least on your Sicilian gastronomical experience, you have to try a fresh red orange from Militello! The town of Militello is famous for its oranges, and Grazia told me that in fact, no bars here actually sell fresh orange juice because every single local has a plot of land in the country with their very own orange grove!

However, while you might not get lucky in a bar, you will be sure to find many Militello oranges at one of the many fruit and vegetable carts that line the streets – just pick out the juiciest one and enjoy!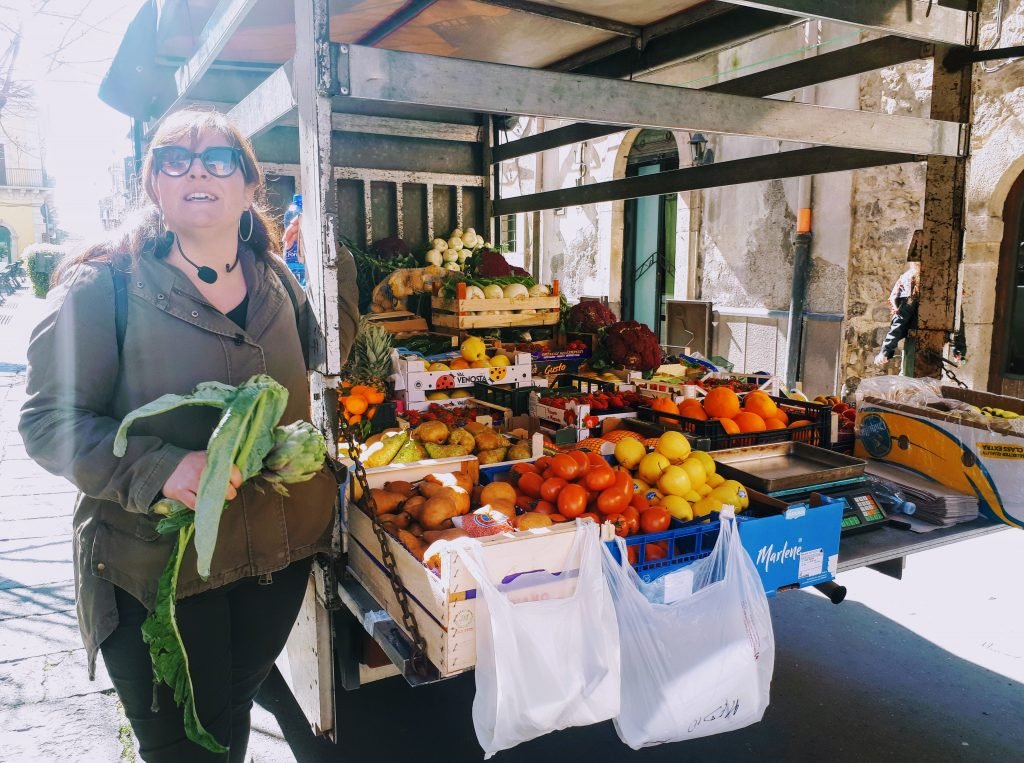 Militello in Val di Catania – Final thoughts


So, that's about it for my musings on Militello!

I thoroughly enjoyed my visit to Militello in Val di Catania and I think that it makes the perfect day trip from Catania, especially if you want to get away from the hustle and bustle of city life for a few hours!

I especially loved how untouched by tourism Militello is. Despite being a UNESCO site, my friends and I were the only tourists wandering around, and the bewildered looks on the faces of the locals when they saw us told me that we were a rare sight!

If you're planning a trip to Militello, then I strongly recommend buying travel insurance. I NEVER travel without insurance, and I've seen too many others get landed with huge medical bills as a result of not having had insurance, that it's something I'll never neglect to buy. My recommendation for great travel insurance is World Nomads.



What do you think? Are you planning to visit Militello? Let me know in the comments section below!

xoxo


If you liked this article and would like to support my work, please click the button above to donate a couple of bucks and buy me a coffee. The ad revenue that I receive on this website is minimal, so support from my readers enables me to keep creating content that you (hopefully!) love to read.


Thank you to Grazia, Matteo, Enzo, and all at the Associazione Regionale Guide Sicilia for showing me around Militello. I attended the tour as a guest but of course all opinions are my own. You can find your own Sicilian guide over at Guide Sicilia.


Disclaimer: Travelling Jezebel uses affiliate links. If you make a purchase on a recommended site, I may make a small commission at no extra cost to you.