I love discovering lesser known destinations, and while Italy can hardly be described as a 'lesser known destination,' there is a shocking lack of interest in the travel community when it comes to Sicily.

While the vast majority of people add Venice, Rome and Florence to their Italian bucket lists, these destinations don't particularly appeal to me.

Located on the east coast of Sicily, Catania lies at the base of Europe's biggest volcano, the formidable Mount Etna. With almost 1 million residents, Catania is Sicily's second largest city (the largest being Palermo, Sicily's capital) and it is home to a breathtaking white sand coastline and an abundance of impressive Baroque architecture.

Catania is also a great place to base yourself if you want to explore East Sicily.

Not only is it the place to be if you want to climb Mount Etna, but there are also so many possible day trips from Catania that I thought I would use my time in Catania to explore the nearby hilltop towns of Castelmola and Taormina.

Because I only had 4 days in Catania, I chose to visit Castelmola and Taormina in a single day, and while I would usually never try to cram in two places in a single afternoon, I certainly didn't regret my decision as both places are tiny, meaning that 1 day is definitely more than enough time to visit both Castelmola and Taormina. That said, if you DO have more time, I recommend Syracuse as well – check out this post for an East Sicily itinerary that incorporates Catania, Taormina and Syracuse!



Castelmola and Taormina – A Stunning Day Trip from Catania


Getting to Castelmola and Taormina from Catania


Hiring a Car


Many people travelling in Sicily choose to hire a car which is definitely the quickest and easiest way to reach Castelmola and Taormina from Catania. Due to the nature of Sicilian drivers, I would only recommend doing this if you are a very confident driver! If you would like to hire a car in Sicily then you can find out more information at Do You Italy.



CouchSurfing Hangouts


I actually got very lucky with my trip to Castelmola and Taormina. I simply made myself 'available' on the Hangouts section of the CouchSurfing app, and said on my status that I was looking for somebody to visit Taormina with. I was hoping for someone (local or tourist) to join me so that we could take the bus together, but within minutes an Italian guy messaged me saying that he had a car and would be more than happy to drive me, not only to Taormina, but to Castelmola too, a Sicilian village that I'd never actually heard of!

Of course, you are not guaranteed to get a ride with CouchSurfing Hangouts but it's definitely worth a try, and if you're lucky then you have the bonus of meeting a new friend to explore Castelmola and Taormina with!



Taking the bus to Castelmola and Taormina


Every day there is a direct bus and train service between Catania and Taormina. The bus takes around 1 hour 10 minutes and costs €4.90 one way, and the train takes 50 minutes (prices vary). The bus leaves once every hour (with a one hour break for lunch) from Viale della Liberta in Catania. The bus company is Etna Trasporti. The trains leave even more frequently with 30 trains every single day connecting the two cities. The first train is at 4:50am and the last one is at 9:00pm and the trains leave from both Catania Centrale and Catania Europa.

From Taormina it is just a 15 minute bus ride to Castelmola. The bus leaves every 45 minutes from the bus terminal in Taormina or the bus stop just outside the entrance to the city.



Castelmola Sicily – An Off the Beaten Path Experience


With only 1100 inhabitants, the sleepy village of Castelmola is not particularly famous, nor does it make the Sicily bucket lists of most. However, that does not mean that Castelmola isn't absolutely beautiful and well worth a visit.

Castelmola is actually so picturesque that it has been classified as 'one of the most beautiful villages of Sicily' countless times, and with its narrow winding streets filled with pastel-coloured houses, artisan stores selling lace, puppets and homemade almond wine, not to mention sweeping views of the Ionian Sea and Mount Etna, it isn't hard to see why.

As you enter Castelmola you will find yourself on Piazza San Antonino, the floor of which is paved in a pattern of black and white lava tiles, and from where you can truly appreciate the incredible views. It is on this piazza that you will find Antico Caffè San Giorgio which has existed ever since it was opened by monks in the year 1907! Visitors to Castelmola back then were offered a glass of Castelmola's famous almond wine which is a white wine flavoured with oranges, herbs and – you've guessed it – almonds. No trip to Castelmola is complete without sampling a glass of almond wine at San Giogio!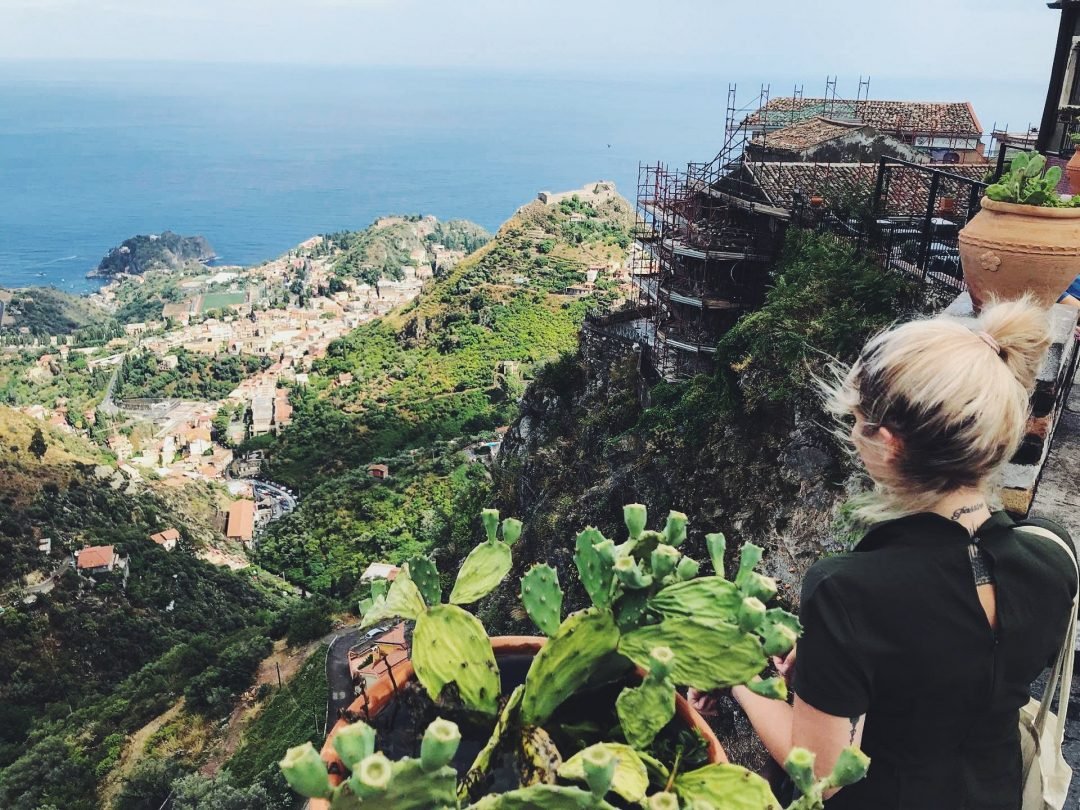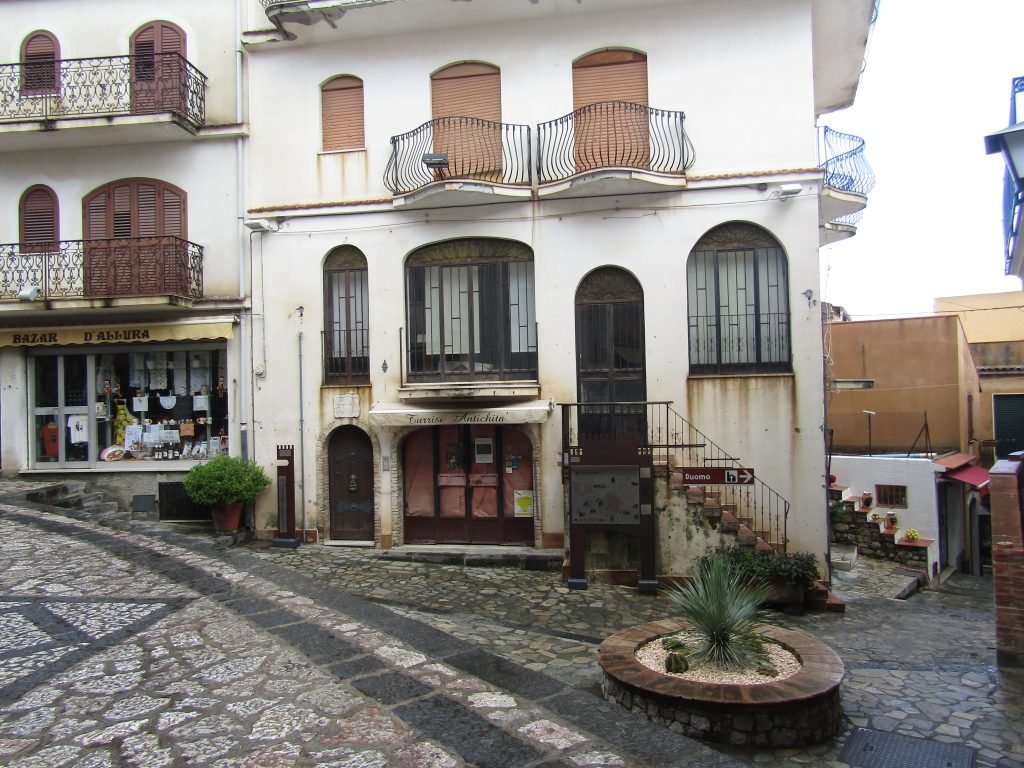 After admiring the views from Piazza San Antonino, it's time for something a little…different.

As we ambled through the streets of Castelmola, with me stopping to take pictures every 5 seconds, my CouchSurfing friend told me that we were going to pay a visit to a special kind of bar. He didn't explain further, but on entering Bar Turrisi, it quickly became apparent just how 'special' this bar is.

Rather than tell you about the – ahem – interesting decor in Bar Turrisi, I think it's probably easier to just show you…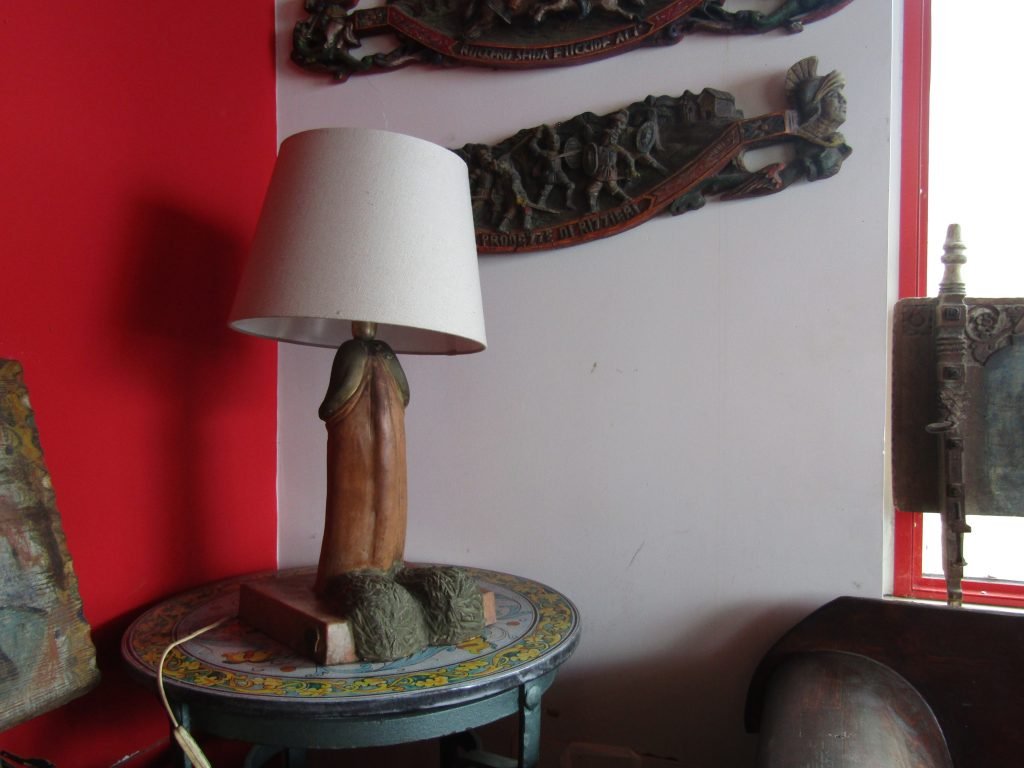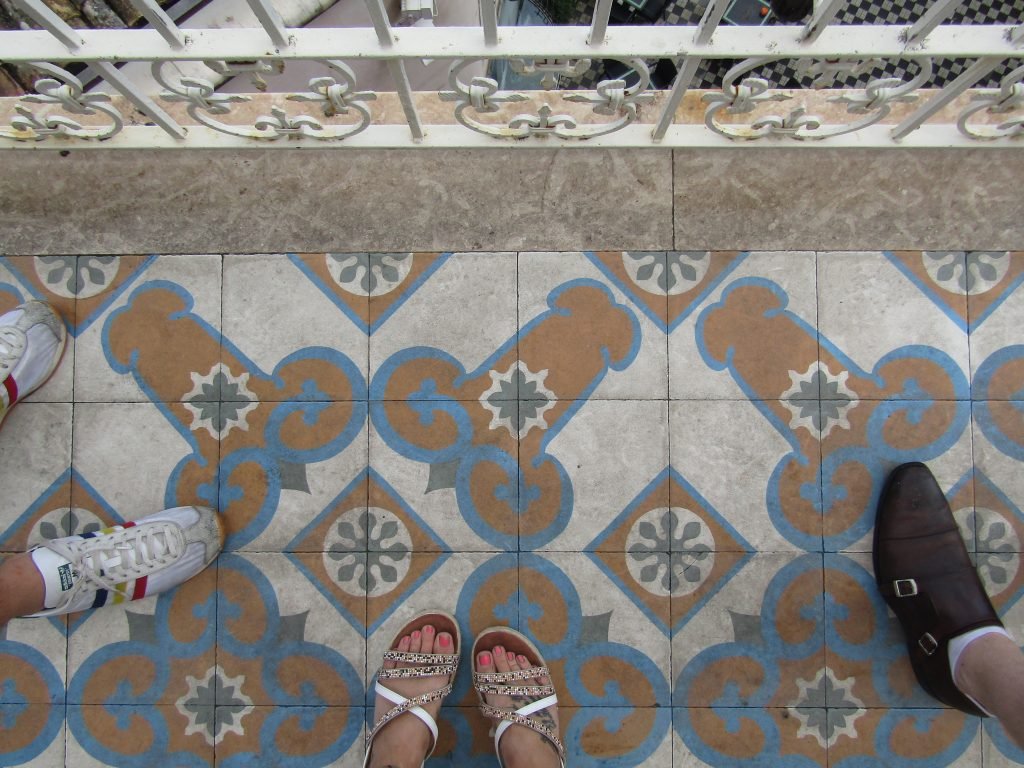 The phalluses of Bar Turrisi actually tell an interesting story. In the mid-19th century, Taormina and the surrounding areas were far more progressive than most other parts of Italy. During this time, painters looked back to the Hellenistic period which depicted nudes, many of which were created in Castelmola. The liberal ways of bohemian artists and openness to sexuality were a way of life in Castelmola at the time, and so in 1947 when Mr Turrisi opened his business, he wanted to reflect just this! All of the furniture and objects displayed at Bar Turrisi have been commissioned by the family and carried out exclusively by Sicilian carpenters and blacksmiths.

While Bar Turrisi began as a kind of bazaar, selling everything from Sicilian puppets to the famous almond wine, it now functions purely as a bar and restaurant where you can still purchase bottles of almond wine as souvenirs (naturally the bottles are penis-shaped).

After you've finished giggling at the decor of Bar Turrisi, it's time to take the short but steep walk up to the point where Castelmola takes its name from – the castle.

Well…the remains of it anyway.

Where there was once an ancient Norman Castle, only ruins remain, but the splendid views over Mount Etna and the Ionian Sea make the uphill walk to the viewpoint well worth it.

Although we visited Castelmola on a busy summer's day, there was a real air of tranquility up at the top, and my friend and I were pretty much alone as we wandered around and enjoyed the sweeping panoramic views.

As far as major 'sights' go, the ruined castle is pretty much all there is to see in Castelmola. To truly appreciate the village of Castelmola, I recommend spending some time wandering around the streets and having a look inside the local gift shops before grabbing lunch at one of the many cafes (Taormina is a lot more expensive and so lunch in Castelmola is recommended to those on a budget).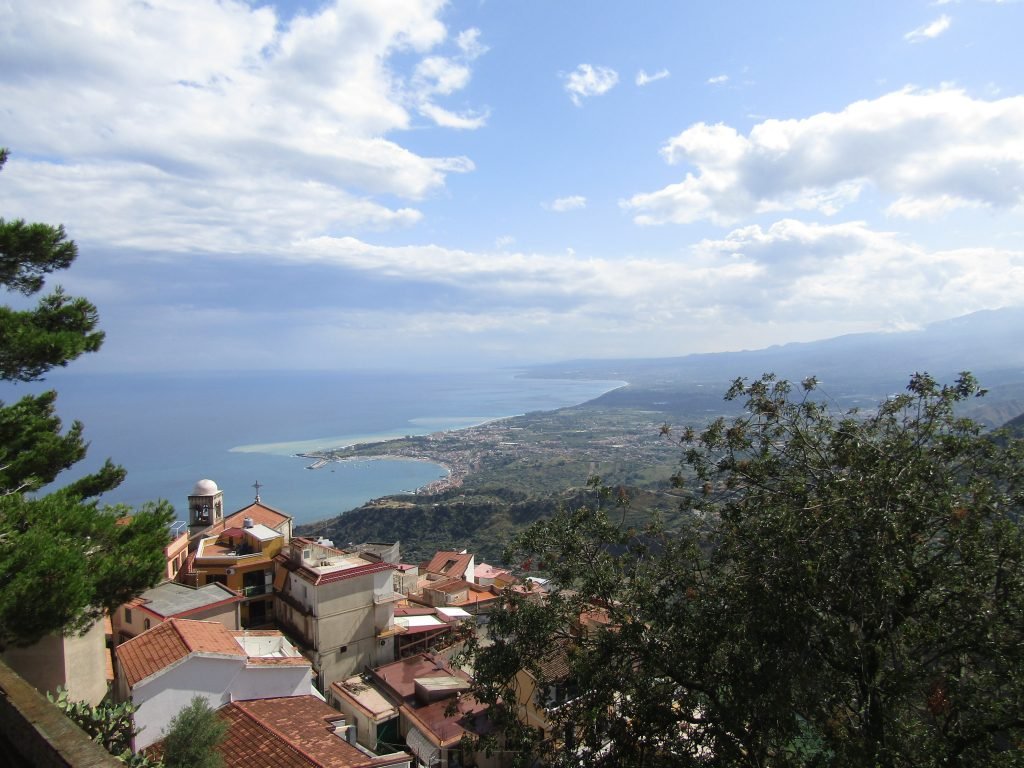 Taormina Sicily – The Sicilian Dolce Vita


Taormina is a high-end resort town popular with middle-class tourists who want the Sicilian experience without the grittiness of Palermo. Perched on the side of a mountain and with jaw-dropping views of Mount Etna, the Bay of Naxos and the Italian coast of Calabria, it is easy to see why so many foreigners flock to Taormina each year to indulge in a spot of la dolce vita.

Now – full disclosure – Taormina is not my scene. I am a backpacker through and through and so I will always choose a grittier place over somewhere like Taormina, which is a little fancy for my tastes.

THAT SAID, Taormina is incredibly pretty, and while I wouldn't opt to stay in Taormina for an extended period of time, I definitely think that it is a fantastic day trip from Catania, and therefore not something to be missed.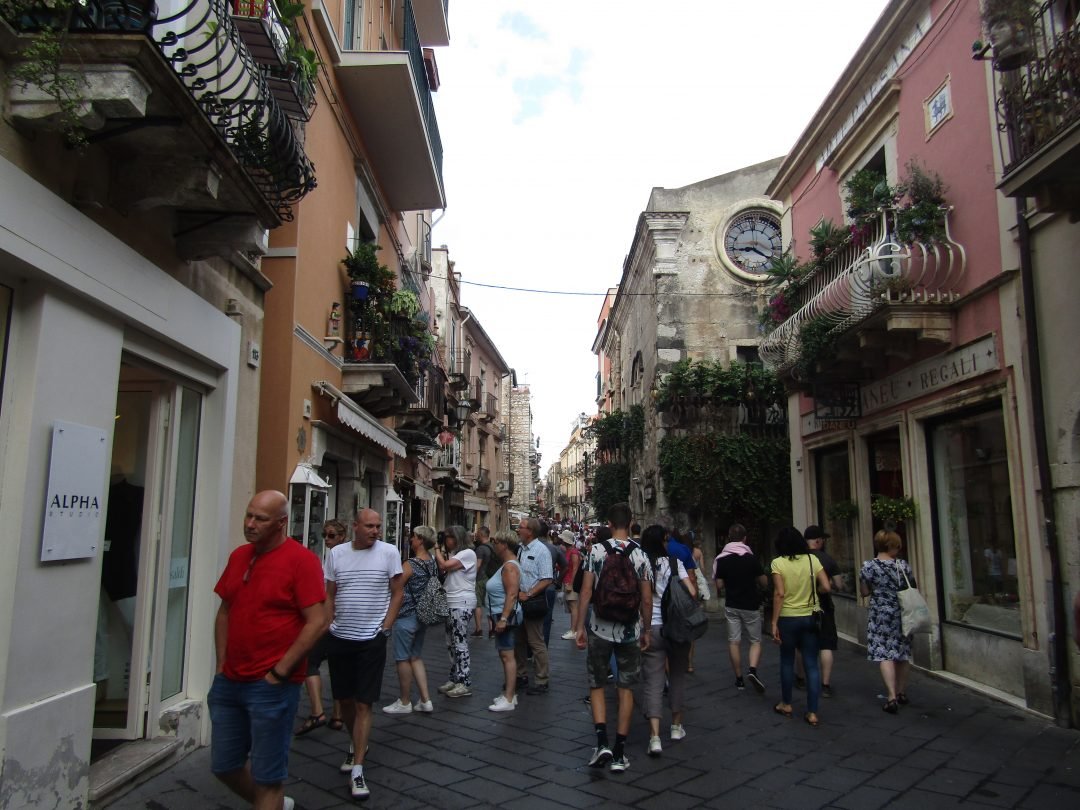 Corso Umberto is the main walking street in Taormina and it is full of gift shops, antique stores, bars and patisseries. This is the street that you will inevitably walk down on any visit to Taormina, and it is a nice place to take your time and look at the things on offer. It should be noted that I found Taormina to be expensive compared to other places I've visited in Sicily.

I also found Corso Umberto to be a little crowded, and I definitely enjoyed getting lost in the narrow side streets much more than meandering up and down Corso Umberto. That said, I took the above picture on a sunny day in July, and so it is clear that these crowds don't compare to those that you would find in other Italian hot spots such as Rome or Florence.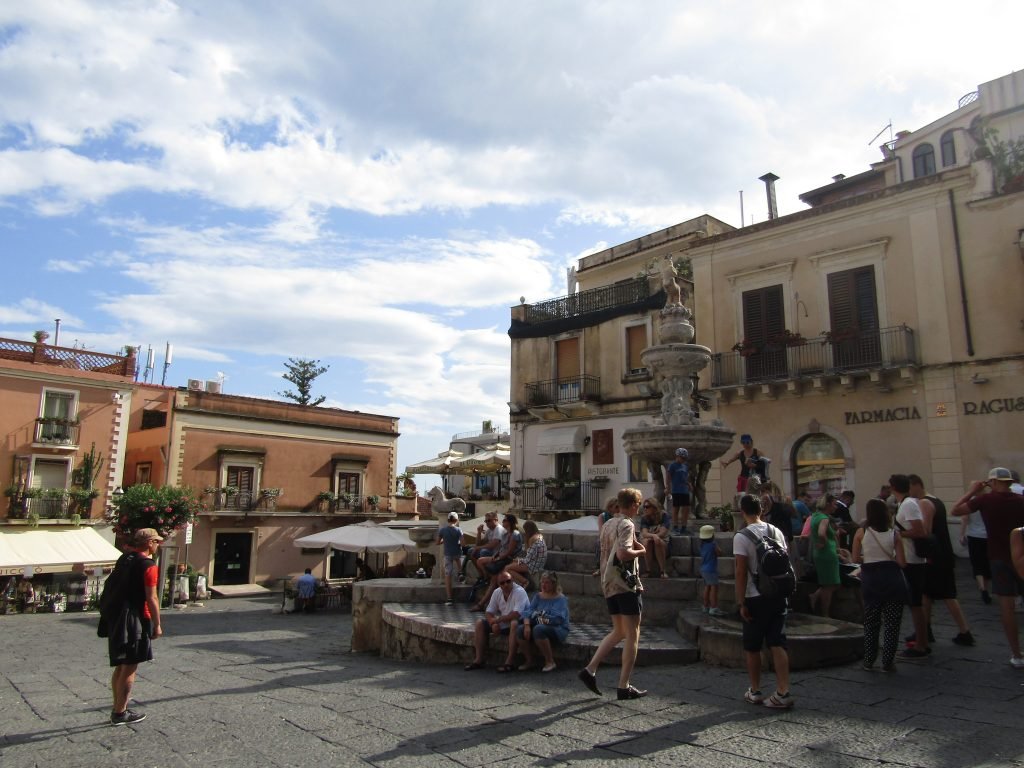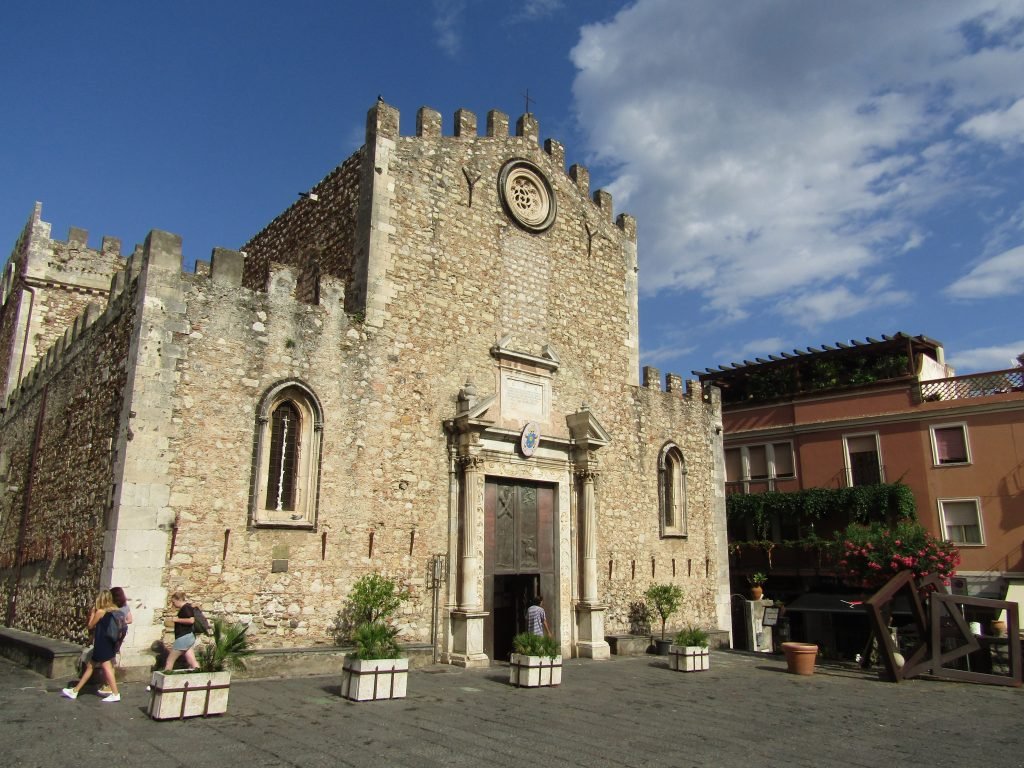 As you reach the end of Corso Umberto you will reach the main square, Piazza Duomo, where you will find a Baroque fountain decorated with centaurs and the Church of San Nicola, which is free to enter (although you must be dressed modestly).

If Corso Umberto and Piazza Duomo feel a little too crowded for you then head to Villa Comunale for a relaxing stroll. Villa Comunale was originally settled by Lady Florence Trevelyan, a Scottish noblewoman who had an affair with Edward VII, heir to the throne of England, before settling in Taormina and marrying a doctor. In the gardens of Villa Communale, you can admire the Victorian follies built by Lady Trevelyan, as well as the lush palm trees, cacti, magnolias, hibiscus, bougainvillea and more.

Unfortunately I didn't get a chance to visit Villa Comunale but I will definitely make a point of going if I visit Taormina in the future!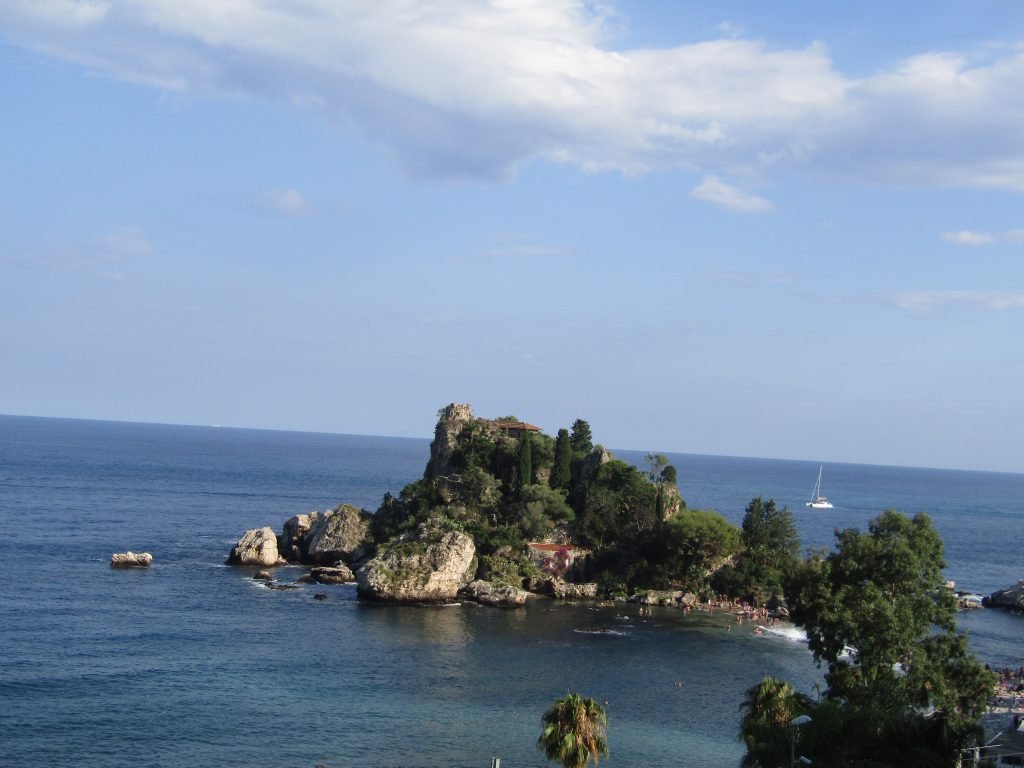 Another place that I didn't visit in Taormina is the Ancient Greek theatre, or Teatro di Taormina, which dates back to the 7th century before Christ and was also used as an arena for gladiators. During the summertime musical performances are held here, as well as various theatre shows.

I made the choice not to go and see Teatro di Taormina because I've been to several Roman theatres at this point (including the beautifully preserved Roman city in Butrint, Albania) and if you want total honesty, they are just not my thing. If the entrance price had been just a couple of euros then I would definitely have gone to the theatre, but I personally didn't feel as though it was worth the €10 fee. I am an uncultured swine, I know.

Anyway, after wandering around Taormina for enough time to get a general feel for the place, we decided that it was time to head back to Catania. I thoroughly enjoyed my time in Castelmola and Taormina and I strongly believe that combining a visit to both is the perfect day trip from Catania. Not only are they are so close together, but neither one needs longer than an hour or two to explore (even factoring in Teatro di Taormina) and you can see some absolutely incredible hilltop views from both places.

Are you planning a trip to Sicily? Will you be adding Castelmola and Taormina to your Sicily itinerary or have I not managed to persuade you? Let me know in the comments below!



If you liked this article and would like to support my work, please click the button above to donate a couple of bucks and buy me a coffee. The ad revenue that I receive on this website is minimal, so support from my readers enables me to keep creating content that you (hopefully!) love to read.

Disclaimer: Travelling Jezebel uses affiliate links. If you make a purchase on a recommended site, I may make a small commission at no extra cost to you.